Motherhood - Philosophy for Everyone: The Birth of Wisdom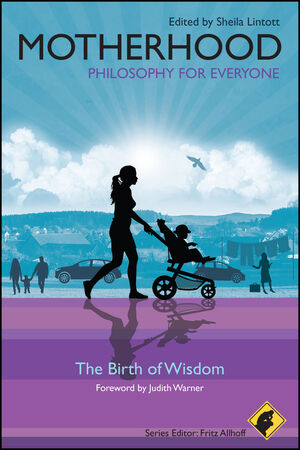 Motherhood - Philosophy for Everyone: The Birth of Wisdom
ISBN: 978-1-444-33028-1 March 2011 Wiley-Blackwell 248 Pages
Description
The complex world of motherhood is here unveiled. Covering issues ranging from whether we should occasionally lie to our children, to the unexpected challenges and complications of being a mother, Motherhood - Philosophy for Everyone offers insightful, serious but often humorous essays that can be enjoyed by everyone - including husbands and fathers.
Considers salient philosophical issues relating to pregnancy, birth, babycare, and raising a child

Chapters include "The Days and Nights of a New Mother: Existentialism in the Nursery", "The Media Proudly Presents:  Lessons' from Celebrity Moms", and "The Off Button: Thought Experiments and Child Control"

Contains work from diverse academic perspectives, including economics, psychology, education, English, sociology, women's studies, and theological studies, as well as from nurses and stay-at-home mothers

Includes a foreword by Judith Warner, the New York Times columnist ("Domestic Disturbances") and author of Perfect Madness: Motherhood in the Age of Anxiety
Buy Both and Save 25%!
Original Price:$43.90
Purchased together:$32.93
save $10.97
Cannot be combined with any other offers.
Foreword (
Judith Warner
).
Acknowledgments (Sheila Lintott).
Navel-Gazing at Its Finest: An Introduction to Motherhood – Philosophy for Everyone (Sheila Lintott).
PART I MOMMY BRAIN: Truth, Knowledge, and Belief in Mothering.
1 How Many Experts Does It Take to Raise a Child? Mothering and the Quest for Certainty (Sue Ellen Henry).
2 Creative Mothering: Lies and the Lying Mothers Who Tell Them (Amy Kind).
3 Pro-Choice Philosopher Has Baby: Reflections on Fetal Life (Bertha Alvarez Manninen).
4 Kim, Ellen, and Zack's Big Adventure: Lesbian Mothers Raising a Boy Steeped in His Masculinity (Kim Anno).
PART II LABOR PAINS: The Work and Wonder of Being a Mom.
5 Days and Nights of a New Mother: Existentialism in the Nursery (Elizabeth Butterfield).
6 Mindful Mothering: How Feminist Buddhist Practices Enhance Experiences of Beauty (Sheryl Tuttle Ross).
7 A Face Only a Mother Could Love? On Maternal Assessments of Infant Beauty (Glenn Parsons).
8 Kevin, Coming Into Focus: On Getting to Know My Son (Laura Newhart).
PART III MOM'S MORALITY: Ethical Issues in Mothering.
9 Making Choices: The Ethics of Infant Feeding (Chris Mulford).
10 Lactational Burkas and Milkmen: On Public Breastfeeding and Male Lactation (Maureen Sander-Staudt).
11 On "Crying-It-Out" and Co-Sleeping (Kevin C. Elliott and Janet L. Elliott).
12 Natural Childbirth is for the Birds (Jen Baker).
PART IV IS MOTHERHOOD EVERYTHING YOU THOUGHT IT WOULD BE? FANTASY MEETS REALITY.
13 The Off Button: Thought Experiments and Child Control (Sara Goering).
14 The Virtues of Motherhood (Nin Kirkham).
15 The Media Proudly Present: "Lessons" From Celebrity Moms (Clemence Due and Damien W. Riggs).
16 God, Mom! The Blessings of Breasts and Womb (George A. Dunn).
A Brief Afterword: Some Words from Contributors' Kids on Motherhood and Philosophy.
Read All About It: A Feminist Bibliography on Pregnancy and Mothering (Compiled by Amy Mullin).
Notes on Contributors.
"This book opens the doors about Motherhood and covers a range of issues mother's face in a refreshing and thought provoking way." (Motherhoodsupport.com, 22 March 2011)
"The series editors were ... smart to divide it into two volumes instead of creating a single book on parenting in general. While there are many questions that apply to the parent role in itself, half the fun is the opportunity for the authors and readers to consider what issues might be thought of as unique to one particular parental role versus another. One of the virtues of these collections is how they demonstrate the ways in which the study of philosophy can really assist us in addressing concrete dilemmas. Measuring the success of collections like these turns on what you expect from them, and I think these two pull it off. The articles are well-written, touches of humour are sprinkled throughout, and the authors can translate complex philosophical theories into a readable format. They apply their work to questions that matter, and even when you don't agree with what they say, there's enough substance here to create an interesting discussion." (The Philosopher's Magazine, 23 March 2011)
"Subtitled "The Birth of Wisdom", a new book called Motherhood: Philosophy For Everyone calls for a more pragmatic approach to being a mum, in which we are not constantly comparing ourselves to others." (Family Interest, December 2010)
"An unusual look at motherhood by several philosophers, which covers ground-such as whether it is ever acceptable to lie to your children- not often explored in maternity books.  Thought provoking." (Mother and Baby, December 2010)