Motivating the ""What's In It For Me?"" Workforce: Manage Across the Generational Divide and Increase Profits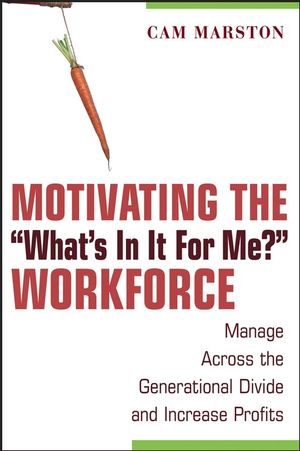 Motivating the ""What's In It For Me?"" Workforce: Manage Across the Generational Divide and Increase Profits
ISBN: 978-0-470-12414-7
May 2007
240 pages
Product not available for purchase
Description
Advance praise for Motivating the "What's In It For Me?" Workforce

"The information on leading and managing generations found in this book is invaluable to all executives today. The war for talent has become increasingly fierce. Attracting and retaining this talent is critical to a successful global company. This book is a masterful tool for developing the skills required for managing multigenerational teams. It is a must-have for executives at all levels who are responsible for a company's greatest asset: its people."
--Phebe Port, Vice President Global Management Strategies,The Estee Lauder Companies

"Motivating the 'What's In It For Me?' Workforce has given our managers good ideas about leading the different generations in our workplace, particularly the New Millennials who we at Enterprise are especially reliant upon to grow our business every single day and, ultimately, become our company's future leaders."
--Marie Artim, Assistant Vice President Recruiting, Enterprise Rent-A-Car

"After Marston presented to our management group, approximately 400 individuals, and after we responded to the clamor for his book, it became commonplace to hear people discussing solutions to problems based on generational considerations. There aren't many people discussions that occur today where we don't at least consider differences between Baby Boomers, Millennials, etc. He really changed our way of thinking!"
--Anne Donovan, U.S. HR LeaderSystems and Process Assurance, PricewaterhouseCoopers

"If you ever had any doubt that generational differences have an impact on go-to-market strategies, Marston's book, Motivating the 'What's In It For Me?' Workforce, provides thought-provoking realities you need to consider. This is a must-read . . . At our Sales Leadership Conference, Marston gave our top sales managers actionable ideas on how to gain better understanding of what drives today's workforce to take direct action and deliver exceptional results."
--Damian A. Thomas, General ManagerCorporate Sales Leader, General Electric Company
Buy Both and Save 25%!
Original Price:$64.90
Purchased together:$48.68
save $16.22
Cannot be combined with any other offers.
Acknowledgments.
Introduction: It's Not Your Father's Workplace Anymore.
1 Peter Pan in the Workforce.
Pixie Dust, Forever Young, and "What Success Means to Me".
2 The Boomers and Matures.
There They Go.Wait, Maybe Not!
3 Up,Up, and Awaaaaay!
The Boomers Soar at Work.
4 Gen X—How They Got Here.
Cynical? Questioning? Cautious? You'd Better Believe It.
5 The New Millennials.
The Future of Our Workplace.
6 Why Work?
The Generational Divide Surfaces in the Workplace.
7 If It's to Be, It's Up to Me.
Be a Better Boss in the Twenty-First-Century Workplace.
8 Creating a Twenty-First-Century Workplace.
Fast, Functional, and Multigenerational.
9 Practical Plans, Proactive Approaches.
The Rubber Hits the Road.
10 What's Next?
A Look into the Crystal Ball.
11 "And Now, a Few Words to My Peers".
What Gen Xers and the New Millennials Should Be Told at Graduation.
Quiz: Generational Voices.
Who Am I?
Answer Key: Generational Voices Quiz.
Who Am I?
References and Suggested Readings.
About the Author.
Index.