Mozart: Portrait of a Genius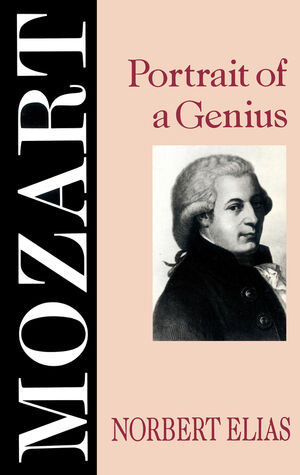 Mozart: Portrait of a Genius
ISBN: 978-0-745-61410-6 October 1994 Polity 160 Pages
Description
Now available in paperback, Mozart is a brilliant study of the great composer's life and creative genius, written by one of the most important social thinkers of our time. In Mozart, Elias provides insight into this case of tragic conflict between personal creativity and the tastes of a society which sought to control it.
Table of contents
Part I Sociological Reflections on Mozart.
.
He Simply Gave Up and Let Go.
Bourgois Musicians in Court Society.
Mozart Becomes a Freelance Artist.
Craftsmen's Art and Artists' Art.
The Artist in the Human Being.
The Formative Years of a Genius.
Mozart's Youth - Between Two Social Worlds.
Part II .
Mozart's Revolt: from Salzburg to Vienna.
Emancipation Completed: Mozart's Marriage.
PThe Drama of Mozart's Life: a Chronology in Note Form.
Two Notes.
Editor's Afterword.
Index.
Reviews
"A high-minded and learned study conveying new insight into Mozart's life and creative processes, and into how he fitted socially and professionally into the framework of his time."
Classical Music
"Elias is insightful about the transition from craftsman's art to artist's art and the reasons for the change in the social situation of artists. He buttresses his arguments with appropriate historical comparisons." Contemporary Sociology
"Elias ... has increased and enlarged our understanding not only of Mozart but of the artist in society, making us more receptive to and understanding of artistic innovation. A rewarding study in the sociology of genius." The Semantic Review
"Freed from jargon (whether sociological or post-Freudian), there are charming passages where Elias exhibits a certain flair for storytelling.' Austrian History Yearbook

'The book is a delight to read, and a very valuable contribution to the literature of Mozart specifically and of artistic creativity in general." Free Life
"It does merit serious attention, particularly (but not only) by those who are principally interested in erecting (or resurrecting) an appropriate cultural context for Mozart's extraordinary achievement." The Music Review
Features
* Norbert Elias is one of the most important thinkers of our time.
* This is a brilliant sociological account of Mozart's life and genius.
* The hardback edition was widely reviewed and it sold well; the paperback edition should be very successful.