Mullite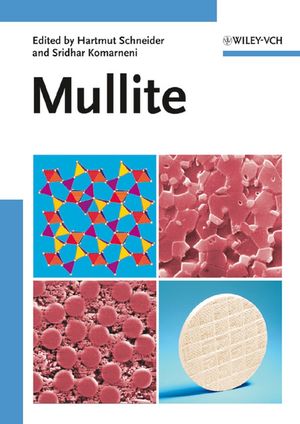 Mullite
ISBN: 978-3-527-60696-2 May 2006 509 Pages
Description
The only book to provide a complete survey -- from the crystallographic fundamentals right up to recent high-tech applications in aerospace technology.
Following a general introduction to the topic, the authors go on to cover the crystal chemistry of mullite and related phases, as well as its basic properties, phase equilibria and stability. One whole section is devoted to the synthesis and processing of mullite ceramics, while later ones cover mullite coatings, fibers and matrix composites.
For materials scientists, solid state chemists and physicists, crystallographers and mineralogists.
GENERAL INTRODUCTION
CRYSTAL CHEMISTRY OF MULLITE AND RELATED PHASES
The mullite-type family of crystal structures
The real structure of mullite
Foreign atom incorporation in mullite
Mullite-type gels and glasses
BASIC PROPERIES OF MULLITE
Mechanical properties of mullite
Thermal properties of mullite
Miscelllaneous properties
Structure-controlled formation of mullite
Phase transformation of mullite
Spectroscopic data
PHASE EQUILIBRIA AND STABILITY OF MULLITE
The Al2O3-SiO2 phase diagram
Influence of environmental conditions on the stability of mullite
Ternary X-Al2O3-SiO2 phase diagrams
SYNTHESIS AND PROCESSING OF MULLITE CERAMICS
Mullite synthesis
Processing of mullite ceramics
Mechanical properties
Thermal properties
Miscellaneous properties
Application of mullite ceramics
MULLITE COATINGS
Chemical gas phase deposited mullite coatings
Plasma and flame sprayed mullite coatings
Application of mullite coatings
MULLITE FIBERS
Mullite whiskers
Sol-gel derived continuous mullite fibers
Melt grown continuous mullite fibers
MULLITE MATRIX COMPOSITES
Whisker reinforced mullitematrix composites
Continuous fiber reinforced mullite matrix composites
Platelet and particle reinforced composites
Metal reinforced mullite composites
Applications of mullite composites
"This new book is a detailed survey of this important engineering material ... In this book the reader will find an comprehensive overview on the recent knowledge of mullite."
Metall

"ein neueres zusammenfassendes Werk fehlte...bisher. ...Das Buch sollte in keiner technisch-mineralogischen bzw. werkstoffwissenschaftlichen Bibliothek fehlen."
Der Aufschluss
03/2008