Multicultural Manners: Essential Rules of Etiquette for the 21st Century, Revised Edition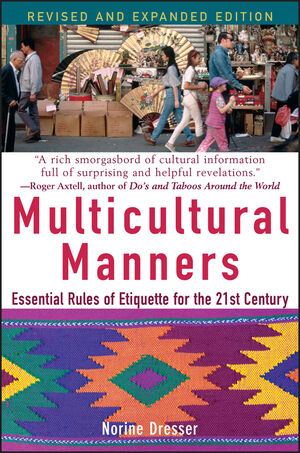 Multicultural Manners: Essential Rules of Etiquette for the 21st Century, Revised Edition
ISBN: 978-1-118-04028-7
Jan 2011
304 pages
Description
Both highly informative and entertaining, Multicultural Manners gives readers the understanding they need, the perfect words to say, and the correct behavior to use in a wide range of cross-cultural situations. This incisive and award-winning guide to etiquette features completely updated etiquette guidelines with special emphasis on post–September 11 culture clashes as well as a brand-new section that demystifies unfamiliar cultures in the news. Norine Dresser identifies key cross-cultural hot spots and suggests methods that foster respect for diversity. Readers will discover the dos and don'ts of successful business and social interaction, detailed tips on avoiding embarrassment in a variety of social settings, amusing firsthand accounts of cultural gaffes, a breakdown of customs, religions, languages, and ethnicities for seventy different countries, and appropriate etiquette for innumerable settings.
Acknowledgments.
Introduction.
1. The New Rules of Communication.
Body Language.
Child-Rearing Practices.
Classroom Behavior.
Clothing and Jewelry.
Colors.
Foodways.
Gifts.
Health Practices.
Holidays.
Luck and Supernatural Forces.
Male/Female Relations and Gender Issues.
Miscellany.
Prejudice.
Time.
Verbal Expressions.
2. Clearing Cultural Confusions.
A Quick Reference Guide.
Map.
Africans.
Asians.
South Asians.
Southeast Asians.
The Balkans.
Independent Members of the Former USSR.
Middle Easterners.
Bibliography.
Index.