Multiculturalism and Diversity: A Social Psychological Perspective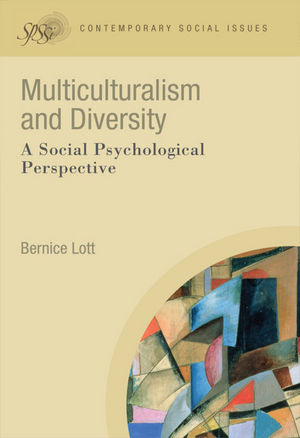 Multiculturalism and Diversity: A Social Psychological Perspective
ISBN: 978-1-405-19065-7 August 2009 Wiley-Blackwell 192 Pages
Description
Multiculturalism and Diversity focuses on the ways in which history and identity inform each other, and examines the politics of culture as well as the politics of cultural identities within the U.S.
Illustrates the basic proposition that each of us is a unique multicultural human being and that culture affects individual self-definition, experience, behavior, and social interaction 
Moves from early simple definitions of multiculturalism to more complex understandings focused on culture as learned, teachable (shared), and fluid
Uses a critical approach to the study of culture and personal identity that is informed by historical and social factors and an appreciation of their interaction
Examines the various cultural threads within the mosaic of a person's multicultural self such as sexual identity, gender, social class, and ethnicity
1 Introduction: The Multicultural Person.
Multicultural Psychology and Cross-Cultural Psychology.
Interpretive Lenses.
Persons and Communities.
A Proposed Social Psychological Perspective.
Definitions and Common Themes.
2 Culture.
Culture is Part of Human Biology.
Diversity of Cultures.
Empiricism and Social Constructions.
3 Ethnicity.
Race and Racism.
Ethnicity.
4 Gender.
Differences in Relative Power.
Cultures of Gender.
Interactions with Ethnicity.
Gender Salience.
5 Social Class.
Doing Social Class.
Unequal Access to Resources.
Working-Class and Low-Income Families.
The Middle Class.
The Rich.
Moving On.
6 Sexual Identity Cultures.
Heterosexual Culture.
Sexual Minority Cultures.
7 The Cultural Mosaic.
Diverse Cultural Communities.
Cultural Identities: How Do I Describe Myself?
Conflicting Identities.
Cultural Intersections.
8 Some Implications for Research and Practice.
Research.
Practice.
What Now?
References.
Subject Index.
Name Index.
"Readers will enjoy its clarity, succinctness, and current examples. A timely contribution, the book can enrich training for research or practice and should prove valuable for anyone interested in culture and diversity." (Psychology of Women Quarterly, 2011)
"For instructors and researchers looking for new and better ways to define and describe the difficult constructs of culture, diversity, and multiculturalism, Multiculturalism and Diversity lives up to the task....... Furthermore, its individual chapters may serve as helpful stand-alone treatises on the four major cultural groups." (PsycCRITIQUES, September 15, 2010)
"A very good introduction for academics and (separately) the truly provincial for whom college is the first step out of their cultural womb." (Prometheus 6, January 2010)