Multidisciplinary Collaboration: Research and Relationships: New Directions for Teaching and Learning, Number 139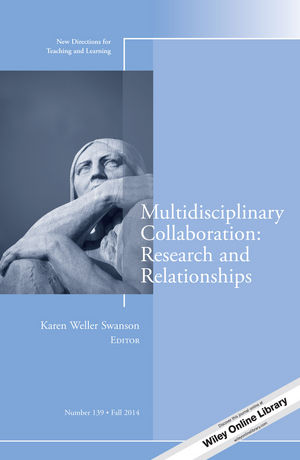 Multidisciplinary Collaboration: Research and Relationships: New Directions for Teaching and Learning, Number 139
ISBN: 978-1-118-98092-7
Sep 2014, Jossey-Bass
104 pages
Description
This volume focuses on SoTL, the scholarship of teaching and learning. It discusses how collaborations among and between disciplines can strengthen education and the ways in which students are taught.

The community of scholars at an institution can provide a fertile ground for interdisciplinary collaboration that can enliven the educational process and the research that supports it. The authors here come from many different disciplines where they teach and use SoTL to inform their own practice and share what they have done with others.

This is the 139th volume of the quarterly Jossey-Bass higher education series New Directions for Teaching and Learning. It offers a comprehensive range of ideas and techniques for improving college teaching based on the experience of seasoned instructors and the latest findings of educational and psychological researchers.
FOREWORD 1
Gary Poole
1. Research and Relationships 3
Karen Weller Swanson
This chapter provides the structure of a Community of Learners using a Scholarship of Teaching and Learning framework.
2. The University as a Community of Learners 11
Wallace Daniel
Building on classical and recent studies of the learning paradigm of higher education, the author distinguishes between receiving ideas and using them and how universities might educate students to be more open to the world, open to discovery and creativity.
3. A Journey of Discovery: SoTL in Physician Assistant Education 19
Patricia J. Kelly
This chapter is a description of the utilization of SoTL concepts and Brookfield's Critical Incident Questionnaire in an evidence-based medicine course in physician assistant education.
4. The Scholarship of Teaching and Learning in Clinical Mental Health Counseling 37
Caroline M. Brackette
This chapter describes the most commonly used pedagogical practices in the clinical mental health discipline and provides examples from a SoTL project along with reflections on the process of designing, facilitating, and analyzing the research.
5. SoTL in Teacher Education: Layers of Learning 49
Jane West
A teacher educator describes how she shares ongoing SoTL research about her students' writing with the students themselves, and how this process influences teaching and learning.
6. The Scholarship of Teaching and Learning in a Physical Therapy Program 61
Jeannette R. Anderson, Niamh M. Tunney
Two educators provide an overview of what they have learned about the Scholarship of Teaching and Learning related to the education of future physical therapists and describe how they and their colleagues on faculty are integrating it into their academic lives.
7. Librarians, Libraries, and the Scholarship of Teaching and Learning 77
Peter Otto
Information literacy, rather than being mere library jargon, encapsulates the pedagogical core across all disciplines; this chapter discusses the active role librarians can play as collaborators in small-scale or campus-wide initiatives to improve teaching and learning.

INDEX 95