Multinational Enterprises and the Law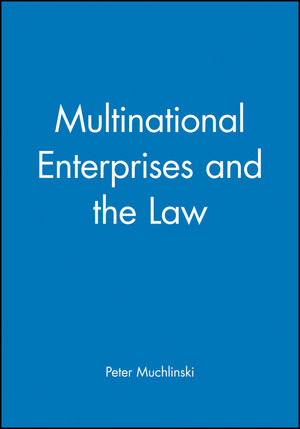 Multinational Enterprises and the Law
ISBN: 978-0-631-21676-6
Dec 1999, Wiley-Blackwell
736 pages
Description
An ideal text for advanced undergraduate and graduate students of international business, international law and international relations, this book offers a comprehensive interdisciplinary introduction to the origins and current features of MNE regulation.
List of Cases.
List of Statutes.
List of Treaties.
List of Publications of Governments and International Organizations.
Preface and Acknowledgements.
List of Abbreviations.
Part 1: The Conceptual Framework:.
1. Concern over Multinational Enterprises.
2. The Evolution of Modern Multinational Enterprises.
3. Business and Legal Forms of Multinational Enterprise: towards a Theory of Control.
4. Relations between MNEs and States: Towards a Theory of Regulation.
Part II: Regulation by Home and Host States:.
5. The Jurisdictional Limits of Regulation through National or Regional Law.
6. The Control of Inward Investment by Host States.
7. Measures for the Encouragement of Inward Direct Investment.
8. Taxation Problems Associated with MNEs.
9. Group Liability and Director's Duties.
10. Accountability and Disclosure.
11. Regulation through Antitrust Law.
12. Technology Transfer.
13. Labour Relations.
Part III: The Emerging System of International Regulation: .
14. Renegotiation and Expropriation.
15. The Settlement of International Investment Disputes.
16. The Codification of International Standards for the Treatment of Foreign Investors.
17. Bilateral Investment Treaties.
Index.
"This is the most valuable book to have crossed my path in the last decade and will contribute massively to the quality of my lectures." Fred Burton, Manchester School of Management