Multiple Sclerosis: Diagnosis and Therapy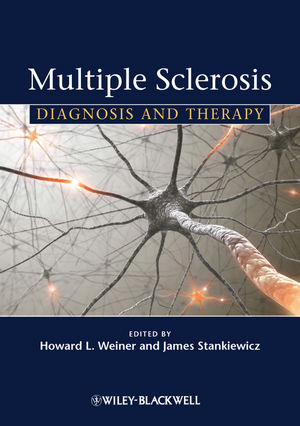 Multiple Sclerosis: Diagnosis and Therapy
ISBN: 978-1-119-96369-1 February 2012 Wiley-Blackwell 352 Pages
Description
Multiple Sclerosis: a complex disease requiring sophisticated management

Multiple Sclerosis poses labyrinthine challenges. There is no blood test to rely on for diagnosis; clinical acumen is essential. Yet an effective diagnosis only takes you part of the way: treatment offers further enigmas. The MS treatment landscape is complicated, and will become even more so with time.
Multiple Sclerosis: Diagnosis and Therapy is the map you need to navigate this maze. Written and edited by leaders in the field, it guides you towards effective and positive choices for your patients. The diagnosis section provides state-of-the-art thinking about pathogenesis. With clear coverage of biomarkers, genetics, and imaging, it presents a coherent framework for making the correct diagnosis. The management section comprehensively covers current and future treatments to steer you through the many options for
• Symptom management
• Cognitive dysfunction
• Depression and other mental health issues  
'Top Tips' throughout provide the practical guidance you need for the best management of your patients.
Multiple Sclerosis: Diagnosis and Therapy should be on the bookshelf of anyone who treats patients with multiple sclerosis.
Table of contents
List of Contributors, vii
Preface, ix
Part I Pathology and Diagnosis, 1
1 Disease Pathogenesis, 3
Roopali Gandhi and Howard L. Weiner
2 Biomarkers, 26
Manuel Comabella and Samia J. Khoury
3 Epidemiology and Genetics, 56
Philip L. De Jager
4 Diagnosis, 77
James M. Stankiewicz, Varun Chaubal, and Guy J. Buckle
5 Pediatric Multiple Sclerosis and Acute Disseminated Encephalomyelitis, 101
Tanuja Chitnis
6 Magnetic Resonance Imaging in Multiple Sclerosis, 136
Mohit Neema, Antonia Ceccarelli, Jonathan S. Jackson, and Rohit Bakshi
7 Predicting Clinical Course, 163
Brian Healy and Maria Liguori
Part II Management, 181
8 Medication Treatment in Multiple Sclerosis, 183
James M. Stankiewicz and Samia J. Khoury
9 Symptom Management, 213
Lynn Stazzone and Brandon Brown
10 Cognitive Dysfunction in Multiple Sclerosis, 239
Bonnie I. Glanz and Maria K. Houtchens
11 Depression and Other Psychosocial Issues in Multiple Sclerosis, 263
David J. Rintell
12 Future Therapeutic Approaches, 283
Howard L. Weiner and Laura Edwards
Index, 301