Mundo unido: Repaso y conversacion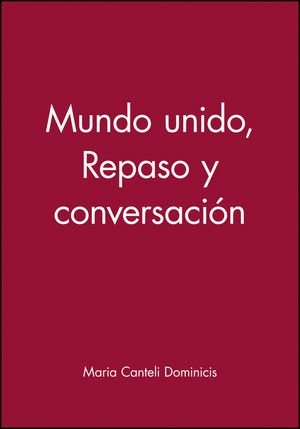 Mundo unido: Repaso y conversacion
ISBN: 978-0-471-58485-8 July 1995 432 Pages
Description
Mundo unido is a two-volume intermediate Spanish series. Using a contextual approach to language learning, Mundo unido focuses on language and how it functions in everyday situations. The Mundo unido program consists of Repaso y conversación, a conversational grammar book, and Lectura y escritura¸ a text aimed at developing reading and writing skills.
Repaso y conversación focuses on a comprehensive review of grammar and promotes conversation and cultural awareness through the inclusion of many vignettes, media, and photos. Reviewers praised the clarity of the grammatical explanations and the diversity of the numerous realia-based exercises. The exercises promote an active use of the language with pair and group and self-expression activities. Closely coordinated with the accompanying reader, workbook, and cassette program, this grammar review may be used alone in an Intermediate Spanish, Grammar Review, or Composition/Conversation course or in conjunction with the other components if preferred.
Table of contents
Unidad I: La Escuela Y El Hogar
Entre Estudiantes
La Familia
La Casa
Vida Doméstica
Unidad II: Vida De Ciudad Y Vida De Campo
La Ciudad
Maneras De Vestir
¡Que Aproveche!
¡Vamos Al Campo!
Unidad III: Trabajo Y Diversiones
Hay Que Ganarse La Vida
Los Deportes
Los Espectáculos
Viajando Por El Mundo Hispánico
What's New
Turns grammar review into a fun, culturally enriching experience by placing it in a realistic meaningful context. This is achieved through the inclusion of brief readings, lots of realia and photos, and profiles of famous Hispanics.
Self-contained chapters allow instructors to cover material in whatever order they prefer.
Crystal clear grammatical explanations are immediately applied in dialogues and prose. English is used to help clarify more difficult points. Direction lines and exercises are written entirely in Spanish.
Unique "Escenas" illustrate vocabulary and provide a springboard for conversations and activities. For example, a busy restaurant and buying clothes.
Closely coordinated with the accompanying reader and workbook to reinforce key grammatical and vocabulary points.