Municipal Wastewater Treatment: Evaluating Improvements in National Water Quality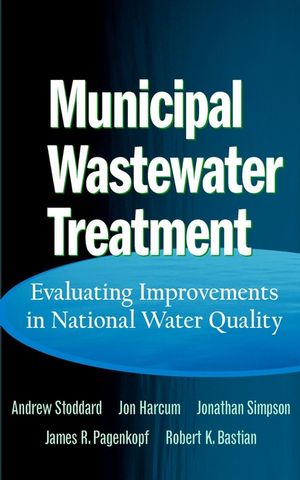 Municipal Wastewater Treatment: Evaluating Improvements in National Water Quality
ISBN: 978-0-471-24360-1
Aug 2002
672 pages
Description
A thorough analysis of public policy and the Clean Water Act's effect on water quality in the U.S.

Using water quality data and historical records from the past 60 years, this book presents the measured impact of the 1972 Clean Water Act on domestic waterways-ecologically, politically, and economically. Municipal Wastewater Treatment supports the hypothesis that the Act's regulation of wastewater treatment processes at publicly owned treatment works (POTW) and industrial facilities has achieved significant success. The authors' case is presented in:
* Background information on the history of water pollution control and water quality management
* Chapters addressing long-term trends in biochemical oxygen demand loadings from municipal wastewater plants and the "worst-case" dissolved oxygen levels in waterways downstream of point sources before and after the Clean Water Act
* Nine case study assessments of long-term trends of pollutant loading water quality and environmental resources associated with POTW discharges


Using long-term trends in dissolved oxygen as the key indicator of water quality improvements, this book provides a detailed retrospective analysis of the effectiveness of the water pollution control policies and regulations of the 1972 Clean Water Act. The successes of the Act that have been achieved over the past 30 years are placed in the historical context of the "Great Sanitary Awakening" of the 19th century and changes in public policies for water supply and water pollution control that have evolved during the 20th century to protect public health and the intrinsic value of aquatic resources. Case study sites include the Connecticut River, Hudson-Raritan Estuary, Delaware Estuary, Potomac Estuary, Upper Chattahoochee River, Ohio River, Upper Mississippi River, and Willamette River.

Complete with end-of-chapter summaries and conclusions, Municipal Wastewater Treatment: Evaluating Improvements in National Water Quality is an essential book for engineers, scientists, regulators, and consultants involved in water quality management and wastewater treatment, as well as students of environmental engineering, environmental science, and public policy.
Buy Both and Save 25%!
Original Price:$319.00
Purchased together:$239.25
save $79.75
Cannot be combined with any other offers.
Preface.

Acknowledgments.

Acronyms.

Introduction.

An Examination of BOD Loadings Before and After the CWA.

An Examination of "Worst-Case" DO in Waterways Below Point Sources Before and After the CWA.

Case Study Assessments of Water Quality.

Connecticut River Case Study.

Hudson-Raritan Estuary Case Study.

Delaware Estuary Case Study.

Potomac Estuary Case Study.

James River Estuary Case Study.

Upper Chattahoochee River Case Study.

Ohio River Case Study.

Upper Mississippi River Case Study.

Willamette River Case Study.

Appendix A: United States Waterways Identified with Water Pollution Problems Before the 1972 Clean Water Act.

Appendix B: National Municipal Wastewater Inventory and Infrastructure, 1940-2016.

Appendix C: National Public and Private Sector Investment in Water Pollution Control.

Appendix D: Before and After CWA Changes in Tenth Percentile Dissolved Oxygen and Ninetieth Percentile BOD5 at the Catalog Unit Level.

Appendix E: Before and After CWA Changes in Tenth Percentile Dissolved Oxygen at the RF1 Reach Level.

Appendix F: Hydrologic Conditions of the 48 Contiguous States, Summer (July-September) from 1961 through 1995.

Appendix G: Municipal and Industrial Wastewater Loads by Major River Basin Before and After the Clean Water Act: 1950, 1973, and ca. 1995.

Appendix H: Municipal and Industrial Water Withdrawals by Major River Basin: 1940-1995.

Glossary.

Index.
"It is a detailed, data-filled report of the nation's water quality and improvements therein." (Journal of Hazardous Material, October 2003)