Music Composition For Dummies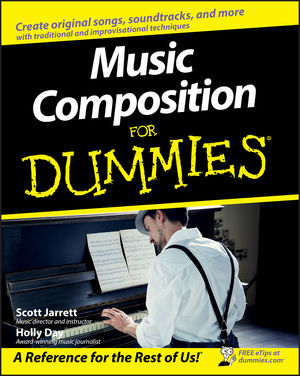 Music Composition For Dummies
ISBN: 978-0-470-28993-8 April 2008 368 Pages
Description
Want to turn that haunting tune in your head into an awesome sound in your ear? You can! Music Composition For Dummies demystifies the process of composing music and writing songs. It guides you through every step of writing your own music, from choosing the right rhythm and tempo to creating melodies and chord progressions and working with instruments and voices.

In this fun and practical guide, you'll learn how to match keys and chords to the mood you want to convey, work a form without limiting your creativity, and hammer out a musical idea, even when your mind is drawing a blank. You'll find out how to create popular songs, classically structured pieces, and even film, TV, and video game soundtracks. And, you'll learn what you need to know about music composition software, including Finale, Sebelius, Pro Tools, and more. Discover how to:
Preserve and organize your musical ideas
Work with established chord progressions or create your own
Develop great rhythms
Select the right instruments
Find melodies in your head, your instrument, and the world around you
Use major and minor scales
Work with modes and moods
Build melodic motifs and phrases
Use the circle of fifths to harmonize
Write for multiple voices
Make a demo recording
Filled with creative exercises to build your composing skills, Music Composition for Dummies is the resource you need to get that melody out of your head and into the world.
Introduction.
Part I: Basics and Rhythm.
Chapter 1: Thinking Like a Composer.
Chapter 2: Tools of the Trade.
Chapter 3: Musical Scrapbooks: Writing on Paper and Screen.
Chapter 4: Rhythm and Mood.
Part II: Melody and Development.
Chapter 5: Finding Melodies Where You Least Expect Them.
Chapter 6: Scales and Modes, Moods and Melodies.
Chapter 7: Building Melodies Using Motifs and Phrases.
Chapter 8: Developing Your Melodies.
Part III: Harmony and Structure.
Chapter 9: Harmonizing with Melodies.
Chapter 10: Composing with Chords.
Chapter 11: Composing from the Void.
Chapter 12: Beginnings, Middles, and Endings.
Chapter 13: Musical Forms.
Part IV: Orchestration and Arrangement.
Chapter 14: Composing for the Standard Orchestra.
Chapter 15: Composing for the Nonstandard Orchestra.
Chapter 16: Composing for Multiple Voices.
Chapter 17: Composing Commercial Music and Songs.
Chapter 18: Composing Electronic Music.
Chapter 19: Composing for Other Musicians.
Part V: The Part of Tens.
Chapter 20: Ten Composers You Should Know About.
Chapter 21: Nine Career Opportunities for Composers.
Chapter 22: Ten Recommended Books for Composers.
Chapter 23: Ten Periods of Music History to Explore.
Appendix A: Modes and Chords Reference.
Appendix B: Glossary.
Index.