Music in the Nineteenth Century: Western Music in Context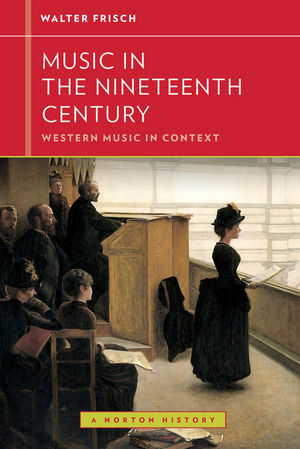 Music in the Nineteenth Century: Western Music in Context
ISBN: 978-0-393-92919-5
*Norton agency titles
253 pages
Product not available for purchase
Description
Nineteenth-century music in its cultural, social, and intellectual contexts.

Music in the Nineteenth Century examines the period from the Congress of Vienna in 1815 to the advent of Modernism in the 1890s. Frisch traces a complex web of relationships involving composers, performers, publishers, notated scores, oral traditions, audiences, institutions, cities, and nations. The book's central themes include middle-class involvement in music, the rich but elusive concept of Romanticism, the cult of virtuosity, and the ever-changing balance between musical and commercial interests. The final chapter considers the sound world of nineteenth-century music as captured by contemporary witnesses and early recordings.

Western Music in Context: A Norton History comprises six volumes of moderate length, each written in an engaging style by a recognized expert. Authoritative and current, the series examines music in the broadest sense—as sounds notated, performed, and heard—focusing not only on composers and works, but also on broader social and intellectual currents.
1. Nineteenth-Century Music and Its Contexts
2. The Romantic Imagination
3. Music and the Age of Metternich
4. The Opera Industry
5. Making Music Matter: Criticism and Performance
6. Making Music Speak: Program Music and the Character Piece
7. Beyond Romanticism
8. Richard Wagner and Wagnerism
9. Verdi, Operetta, and Popular Appeal
10. Concert Culture and the "Great" Symphony
11. Musical Life and Identity in the United States
12. The Fin de Siècle and the Emergence of Modernism
13. The Sound of Nineteenth-Century Music
PRESENTS MUSIC IN CONTEXT
Like the other volumes in the series, Music in the Nineteenth Century brings a fresh perspective to the study of music by emphasizing social, cultural, intellectual, and political contexts of the music. Walter Frisch looks far beyond the notes on the page or the details of composers' lives to embrace audiences, performers, institutions, and social settings. For example, the text introduces the colorful and all-powerful opera impresarios of the nineteenth century, one of whom financed his art through a gambling syndicate.
ENGAGING, COHERENT THEMES
Numerous themes unite the entire Western Music in Context series into a rich yet coherent narrative and help students tie together what they learn about music history, including:
The role of gender, race, and class in musical culture 
Music and national identity, including the Americas and eastern Europe 
The role of technology in composing and disseminating music from the advent of notation to the digital age 
Music for public and private consumption 
Relationships among composers, performers, and audiences 
Music education for composers, performers, and the general public
FLEXIBLE AND AFFORDABLE
Along with the other volumes in the series, Music in the Nineteenth Century is designed for maximum flexibility in the classroom.The text may be packaged with the accompanying 23-work anthology, with the nineteenth-century volume of Strunk's Source Readings in Music History, or with Norton Critical Scores, all at a significant discount. The text is also available as a low-priced ebook.