My Start-Up Life: What a (Very) Young CEO Learned on His Journey Through Silicon Valley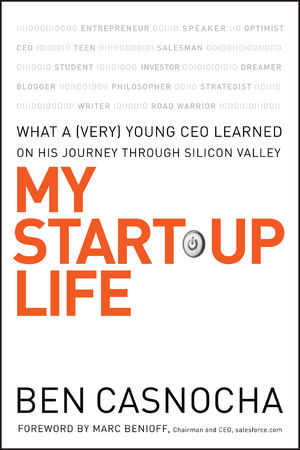 My Start-Up Life: What a (Very) Young CEO Learned on His Journey Through Silicon Valley
ISBN: 978-1-119-17780-7
Jun 2015, Jossey-Bass
208 pages
Description
Ben Casnocha discovered he was entrepreneur at age 12 and hasn't slowed down since. In this remarkably instructive book, Ben dissects the entrepreneurship "gene," explaining that everyone has inherited it if they have an idea to make the world a better place. In Casnocha's case, he found a better way for city governments to communicate with constituents on the Web. Six years later, Comcate has dozens of municipal clients, a growing staff, and a record of excellence. This book is the story of his start-up, but also a conversation with his mentors, clients and fellow entrepreneurs about how to make a business idea work?and how to have the time of your life trying. From Pat Lencioni to Marc Benioff of salesforce.com, Ben has won over the best and brightest of the business world?now it's your turn!
Foreword By Marc Benioff.
Introduction.
1.0 My Dot-Com Life Begins.
Brainstorm: Who Knows What Could Happen If You Raise Your Hand?
Brain Trust: Take Responsibility, by Heidi Roizen.
2.0 Nature or Nurture? A San Francisco Upbringing.
Brainstorm: All the Fuss About "Passion"—and How to Tap into Yours
3.0 The First Axiom of Business: Find a Need and Fill It.
Brainstorm: The Fringe-Thoughts List: Where Most Great Ideas Develop.
Brainstorm: Feedback, Feedback, Feedback.
4.0 Comcate Is Born: The Nuts and Bolts of Starting a Business.
Brainstorm: The Business Plan Myth 28
Brainstorm: Why Some People Get More Stuff Done (and Start Real Businesses).
5.0 First Meeting with a VC (It's All About the Network).
Brainstorm: The Power of Mentors.
Brainstorm: When to Ask a Dumb Question.
Brain Trust: Taking Mentor Relationships to the Next Level, by Brad Feld.
6.0 Signing Up Early Customers: Selling the Sizzle and the Steak.
Brainstorm: Asking Questions: There's a Right and a Wrong Way.
Brainstorm: I Have a Strategic Plan. It's Called Doing Things.
7.0 Confronting Failure . . . and Bouncing Back.
Brainstorm: Building Resilience—A Transferable Quotient.
Brainstorm: How to Create and Leverage an Advisory Board.
8.0 Hiring an Interim CEO: My First Big Mistake.
Brainstorm: Three Sure Ways to Maximize Luck.
9.0 The Hunt for a COO: Recruiting a Top Team.
Brainstorm: The Art of Courtship.
Brainstorm: How to Overcome Fear of Failure.
10.0 Life as a Road Warrior: Making Memorable Sales Pitches.
Brainstorm: Presentations—Worthy of Obsession.
Brainstorm: Pricing in an Early-Stage Company.
Brain Trust: Life Is a Sales Call, by Jeff Parker.
11.0 I'm a Sophomore: Balancing Work, School, and Life.
Brainstorm: Redefining the Entrepreneurial Lifestyle: Sleep, Nutrition, Exercise.
Brainstorm: Being a Corporate Athlete.
Brain Trust: A Life That Works, by Chris Yeh.
12.0 A Silicon Valley Life: Building Me, Inc.
Brainstorm: Networking 101.
Brainstorm: Networking 202.
Brainstorm: Every Cold Call Can Be Warm—Rich First-Time Interactions.
Brainstorm: Creating and Projecting Brand "Me."
13.0 The Product Development Process: Cheap, Good, or Fast?
Brainstorm: Dare to Be Mediocre: Good Is the Enemy of Perfect.
14.0 It's a Frugal, Frugal World: Bootstrapping Through the Inevitable Cash Squeeze.
Brainstorm: Asking for Money Versus Asking for Advice.
15.0 The Long, Hard Slog: Achieving Scale.
Brainstorm: A Relationship-Based First Business.
Brainstorm: Getting More Good Revenue and Less Bad Revenue.
Brain Trust: Keep Slogging Away, by Carol Rutlen.
16.0 Fulfilling the Mission, One Customer at a Time.
Brainstorm: Make Meaning: What Gets You and Your Employees Up Each Day?
17.0 The Road Ahead: Leaders of the Flat World.
Brain Trust: How to Think About the Future, by Sean Ness
18.0 What Will You Be Shouting When You Reach the Grave?
Brainstorm: Entrepreneurs Are Optimists.
Brain Trust: Let Your Heart Guide You, by Timothy J. Taylor.
Appendix A: What's Next.
Appendix B: A One-a-Day, One-Month Plan to Becoming a Better Entrepreneur.
Appendix C: Ben's Reading List.
Acknowledgments.
Endnotes.
The Author.
LORD, I loved being 19. If I had the chance to do it all again, I'd start up my life at that age. For most relatively "normal" guys like me, life at 19 is a joyously ephemeral state of being in between. Your adolescence is not quite behind you; your adulthood is not quite at hand. You can appropriate the privileges of a grownup without facing the responsibilities. And if you're lucky, you can still put it all on your parents' tab.
Or you can be Ben Casnocha, the 19-year-old author of "My Start-Up Life: What a (Very) Young C.E.O. Learned on His Journey Through Silicon Valley." Publishing a book in his teens actually ranks as one of his more modest accomplishments. At 12, he started his first company. At 14, he founded a software company called Comcate Inc. At 17, Inc. magazine named him "entrepreneur of the year."
Along the way, Ben (I refuse to address him as Mr. Casnocha until he turns 21) was also captain of his high school basketball team and edited the school newspaper. He will be enrolling in Claremont McKenna College this fall.
In the meantime, he's been taking what he describes as a "year off" to travel the world and to lecture at universities while continuing to serve as chairman of Comcate. So much for being a normal, carefree 19-year-old.
"I don't want to be normal," Ben declares in "My Start-Up Life." "I want to be something else."
Ben's book proves that he is indeed something else, and then some. Like its author, "My Start-Up Life" is precocious, informative and entertaining, if not quite fully realized as a grown-up work. But it's still very much worth reading to gain insight into the mind, manners and ambitions of an American entrepreneur from whom we will almost undoubtedly be hearing again throughout the first half of this century.
Ben organizes his story in chronological order. He recounts the otherwise "routine day" in 2000 when the teachers of his sixth-grade technology class in a San Francisco-area middle school proposed the idea of creating a Web site dedicated to resolving citizen complaints about local government. Unlike his classmates, who abandoned the project as soon as school let out, he spent the summer learning how to write the HTML code necessary to make ComplainandResolve.com a short-lived but functioning entity.
In 2002, Ben transformed that not-for-profit classroom venture into Comcate, a classic Silicon Valley start-up that provides software to enable city managers to track and resolve citizen complaints. He describes days when playing hooky from school started with catching a flight to Los Angeles and ended with basketball practice back in San Francisco. In between, there were sales calls to potential clients, lunches with venture capitalists, and scores of e-mail messages to and from a software programmer in India.
But "My Start-Up Life" is more of an entrepreneurial how-to manual than the autobiography of a whiz kid. The narrative chapters are interspersed with sidebars headlined "Brain Trust" and "Brainstorm" that provide insights from adult business people and share the author's epiphanies on everything from "redefining the entrepreneurial lifestyle" with proper sleep, nutrition and exercise, to ways to "maximize luck."
"Expose yourself to as much randomness as possible," Ben advises. "Attend conferences no one else is attending. Read books no one else is reading. Talk to people no one else is talking to. Who would have thought that giving a speech at a funeral at age 12 would introduce me to a man who would introduce me to my first business contact who would introduce me to several other important people in my life. That's luck. That's randomness."
An appendix offers a "One-a-Day, One-Month Plan to Becoming a Better Entrepreneur." If some of the daily agenda items are mundane ("Stop watching TV," "Form an advisory board"), others are both insightful and inspirational.
"Act on incomplete information," he urges in the context of entrepreneurial risk-taking. He says Gen. Colin Powell "expected his commanders in the field to make decisions when they had 40 percent of the potentially available information. In life-or-death situations. And you think you need more information?"
Unfortunately, "My Start-Up Life" fails to give a coherent account of Comcate's financing and the current status of the company, which is privately held. In a recent telephone interview, Ben said he withheld those kinds of details for proprietary reasons because his company is a developing enterprise.
With a little prodding, he told me that he raised "about $250,000" to start Comcate, and that the company is now "self-sustaining" with 6 employees, 75 local government clients and anticipated 2007 revenue of $1 million. I just wish he'd put some of this general information in the book.
Apart from its repeated references to the dot-com mania of Silicon Valley, the book lacks political and socioeconomic context. In describing the early days of Comcate, for example, Ben notes that the fall of 2001 was a "busy few months," without any mention of the terrorist attacks of Sept. 11. When I asked him about that, he said that "it didn't really impact the business."
I also would have liked to read more about Ben's parents. He duly expresses his gratitude, especially to his father who lent space in his law office for Comcate. But we never get a clear picture of what life was like in the Casnocha household. Talk about risk-taking — nothing takes more wisdom and courage than their kind of entrepreneurial parenting.
In any event, Ben seems to be gaining an ever more acute sense of history and his own mortality as "My Start-Up Life" hits the stores. He told me that he's already working on a second book, about "America as the world's greatest start-up."
He added that he intends to make the most of the time left until his next birthday, in March 2008. "I've got another eight months until I'm just another boring 20-year-old," he said. (New York Times, June 17, 2007)