My Vision of Europe and Globalization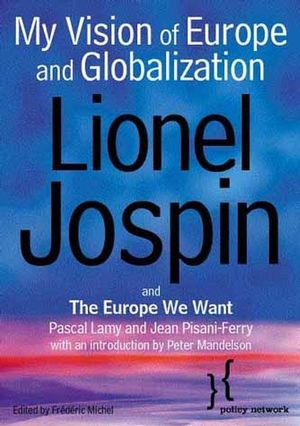 My Vision of Europe and Globalization
ISBN: 978-0-745-63029-8
May 2002, Polity
160 pages
Description
Debates about globalization and the European Union are at the forefront of current affairs in the UK, Europe and in North America. In My Vision of Europe and Globalization, the French Prime Minister, Lionel Jospin, tackles head-on the crucial issues for the Left and the anti-globalization movement. The dynamic created by the opening of markets, the movement of capital, and the rapid spread of technological innovation and mass communication creates both opportunities and dangers. Lionel Jospin explores the dilemmas created by Enlargement and develops a reform agenda based on the role of the State, the regulation of World Trade, the future of the model of a 'Federation of Nation States' and the modernization of European institutions.


This volume also includes The Europe We Want introduced by Peter Mandelson. This article provides a clear vision for the future reform of the European Union drafted by two of the French Left's leading figures: European Commissioner, Pascal Lamy, and Chief Economic Advisor to the French Prime Minister, Jean Pisani-Ferry. This vision is founded on an understanding of the French Left's own fears and misgivings, and its perception of the dilemmas and challenges presented by European integration. A real menu for modernizers.
Preface.
My Vision of Europe and Globalisation: Lionel Jospin..
2. The Europe We Want: Pascal Lamy and Jean Pisani-Ferry with an introduction by Peter Mandelson.
"Lionel Jospin is a modern thinker of the Left in Europe, as this book reveals, whose record shows his ability to translate confident analysis into practical policy. In his vision of a "market economy not a market society" he has broken new ground in combining an economy of enterprise and a society of social justice." Peter Mandelson, MP and Chair of the Policy Network
Lionel Jospin: scapegoat and victim of a cruel protest vote or rightly ousted for failing to deliver solutions to his nation?



This book sets out Jospin's vision for Europe and globalization


Asks how we can control globalization, maximising its benefits and limiting its negative consequences


Accompanied by The Europe We Want by Pascal Lamy and Jean Pisani-Ferry, with an introduction by Peter Mandelson