My Years with Ayn Rand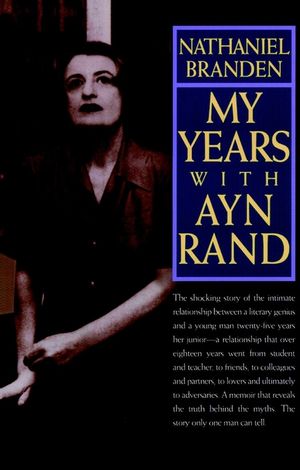 My Years with Ayn Rand
ISBN: 978-0-787-94513-8
Feb 1999, Jossey-Bass
432 pages
Description
Previous Praise for Nathaniel Branden
"Relentlessly revealing. . . the myth of Ayn Rand gives way to a full-sized portrait in contrasting colors, appealing and appalling, potent and paradoxical. . . . it takes a special kind of nerve to write such a book."
--Norman Cousins, author of Head First and The Healing Heart
Ayn Rand's Atlas Shrugged is one of the most influential books of the twentieth century-its popular impact ranked second only to the Bible in a major poll. Millions know Rand as one of this century's great thinkers, writers, and philosophers, yet much about the private Ayn Rand remains shrouded in mystery.
Who was Ayn Rand?
My Years with Ayn Rand charts the course of the clandestine, tempestuous relationship between the enigmatic author of Atlas Shrugged and The Fountainhead and Nathaniel Branden-her young disciple and future pioneer of the self-esteem movement. In this book, discover the real Ayn Rand through the eyes of the man who became her soul mate and shared her passions and philosophical ideals.
Their tragic and tumultuous love story began with a letter written by Branden as an admiring teenage fan and Anded, more than twenty years later, with accusations of betrayal and bitter recriminations. My Years with Ayn Rand paints an unforgettable portrait of Ayn Rand-whose ideas, even today, can generate a maelstrom of controversy.
Author's Note
Dedication
Introduction
Part One
Chapter 1
Chapter 2
Chapter 3
Chapter 4
Chapter 5
Chapter 6
Chapter 7
Part Two
Chapter 8
Chapter 9
Chapter 10
Chapter 11
Chapter 13
Part Three
Chapter 13
Chapter 14
Chapter 15
Chapter 16
Chapter 17
Epilogue
The Author
Index
"Dr. Branden's account of his complex relationship with the literary great . . . allows us a fascinating glimpse into the passions of their lives--intellectual and personal. . . . [It is] not only a memoir of a mythic woman . . . but a chronicle of a stirring intellectual commitment to a political morality that indivudally could only fail." (NAPRA ReView)

"What a story! It's heroic, romantic, deadly, horrifying, tender-and I couldn't put it down." (George Leonard, author of The Transformation and Education and Education and Ecstasy)

"Relentlessly revealing. . . the myth of Ayn Rand gives way to a full-sized portrait in contrasting colors, appealing and appalling, potent and paradoxical. . . . it takes a special kind of nerve to write such a book." (Norman Cousins, author of Head First and The Healing Heart)

"Non-stop theater. All the ingredients are there: conflict, colorful characters, suspense, and a Greek inevitability of tragedy born of hubris. There's a nexus of sex nearly dizzying in its permutations." (Dale Wasserman, playwright and screenwriter, Man of La Mancha and One Flew Over the Cuckoo's Nest)

"Branden plots his relationship with Rand from a psychological vantage point, with devastatingly articulate results. . . . A fascinating portrait of Rand and her disciples." (Kirkus Reviews)

"Do you know my greatest reward for 'The Fountainhead?' You." (Ayn Rand to Nathaniel Branden)