MySQL Enterprise Solutions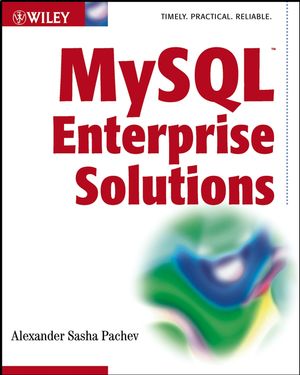 MySQL Enterprise Solutions
ISBN: 978-0-471-45562-2
Feb 2003
416 pages
Product not available for purchase
Description
With more than three million users, MySQL is the most popular open-source database server in the world, providing an extremely fast, reliable, and inexpensive alternative to commercial database management systems
Gives corporate users a complete guide to building enterprise-level database applications with MySQL
Covers the pros and cons of adopting MySQL and installing, testing, and configuring the MySQL server
Written by one of the lead programmers of the MySQL product and reviewed by Monty Widenius, the creator of MySQL
Companion Web site includes all code examples as well as links to useful online resources
Acknowledgments.
About the Author.
Introduction.
PART I. BRINGING MYSQL INTO YOUR ENTERPRISE.
Chapter 1. Overview of MySQL.
Chapter 2. Selecting a Platform for MySQL Server.
Chapter 3. Installing MySQL.
Chapter 4. Testing Your MySQL Installation.
Chapter 5. Access Control and Security.
PART II. DEVELOPING MySQL APPLICATIONS.
Chapter 6. Choosing the Client Language and Client-Server Network Architecture.
Chapter 7. MySQL Client in a Web Environment.
Chapter 8. C/C++ Client Basics.
Chapter 9. PHP Client Basics.
Chapter 10. Perl Client Basics.
Chapter 11. Java Client Basics.
Chapter 12. Writing the Client for Optimal Performance.
PART III. MAINTAINING AND OPTIMIZATION.
Chapter 13. Table Design.
Chapter 14. Configuring the Server for Optimal Performance.
Chapter 15. Analyzing and Improving Server Performance.
Chapter 16. Replication.
Chapter 17. Backup and Table Maintenance.
Chapter 18. Exploring MySQL Server Internals.
PART IV. APPENDICES.
Appendix A: Migration Notes.
Appendix B: Troubleshooting Notes.
Appendix C. SQL Problem Solving Notes.
Appendix D. Online Resources.
Index.
"…a good read for anyone considering a serious use for MySQL…" (Linux Format, August 2003)