Myasthenia Gravis and Related Disorders I: 12th International Conference, Volume 1274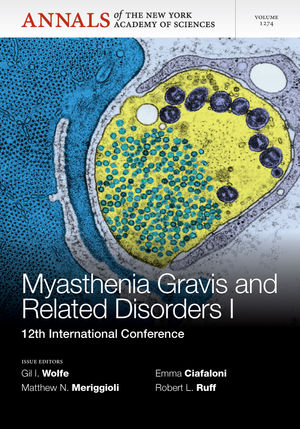 Myasthenia Gravis and Related Disorders I: 12th International Conference, Volume 1274
ISBN: 978-1-573-31890-7 January 2013 Wiley-Blackwell 252 Pages
Description
Myasthenia gravis (MG), an acquired immune syndrome affecting proteins at the neuromuscular junction, causes significant muscular functional impairment and can compromise patients' quality of life, including fatigue, disability, and increased mortality rates. Continued efforts in the last decades have begun to produce significant progress in our understanding of this rare condition, yet considerable challenges remain for improving diagnosis and developing effective treatments for MG. The present volume comprises papers stemming from the "12th International Conference on Myasthenia Gravis and Related Disorders," held May 21–23, 2012 at the New York Academy of Sciences in New York City.
The papers collected in this first of two Annals volumes highlight some of the key developments in neuroscience and immunology in MG and related syndromes presented at the conference, including structure and function of the neuromuscular junction, advances in immunology and their relationship to myasthenia gravis, clinical and laboratory developments, outcome measurements and clinical trial development, and animal models of neuromuscular junction disease.
NOTE: Annals volumes are available for sale as individual books or as a journal. For information on institutional journal subscriptions, please visit: http://ordering.onlinelibrary.wiley.com/subs.asp?ref=1749-6632&doi=10.111/(ISSN)1749-6632.
ACADEMY MEMBERS: Please contact the New York Academy of Sciences directly to place your order (www.nyas.org). Members of the New York Academy of Science receive full-text access to Annals online and discounts on print volumes. Please visit http://www.nyas.org/MemberCenter/Join.aspx for more information on becoming a member.