NAVIGAID Systems Pty Ltd: A Manual Accounting Practice Set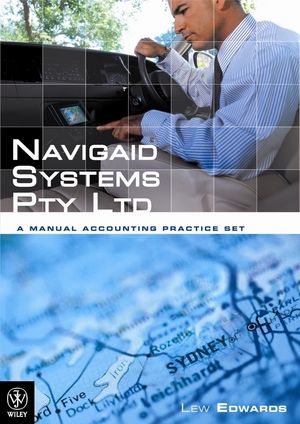 NAVIGAID Systems Pty Ltd: A Manual Accounting Practice Set
ISBN: 978-0-470-82018-6
Oct 2008
400 pages
Product not available for purchase
Description
Navigaid Systems Pty Ltd is a small retail business specialising in the supply of a limited range of person global positioning systems to a variety of customers. The practice set is designed to give users experience, in a simulated retail business environment, experience in analysing, recording and processing a number of common business transactions incorporating a perpetual inventory system in a manual accounting system.



On completion of this practice students should have an understanding of the processes and procedures associated with the manual accounting system and in particular a greater appreciation of:

• the steps involved in the accounting cycle for a small retail business
• how the accounting cycle culminates in the production of monthly financial statements
• the accounting procedures used in a perpetual inventory system
• how the Goods and Services Tax impacts on accounting
• the role of balance day adjustments and their effects on final statements, and the end-of-period closing process
• preparation of financial statements from accounting records.

 

 
Introduction
Navigaid Systems Pty Ltd - company background
Accounting system and accounting records
Accounting procedures
General and subsidiary ledgers opening balances
Transactons for June 2008 Instructions
Journals
General Journal
Sales journal
Purchases Journal
Cash Receipts Journal
Cash Payments Journal
Ledgers
Accounts Receivable Ledger
Accounts Payable Ledger
Inventory Ledger
General Ledger
Final Statements
Schedules of subsidiary ledger balances
Worksheet
Income Statement
Balance Sheet
Post-closing trial balance
Appendix - Transactions June 2008
Students will learn how typical business events are recorded in a manual accounting system
Students will gain a basic understanding of the rules for debiting and crediting
Represents accounting processes that are made by a typical small business.