NIST/EPA/NIH Mass Spectral Library 2017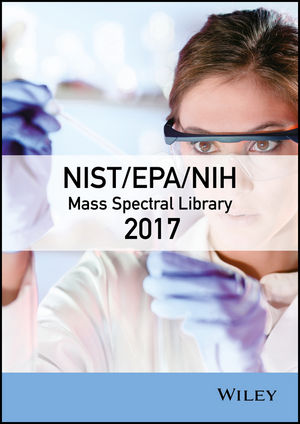 NIST/EPA/NIH Mass Spectral Library 2017
ISBN: 978-1-119-37674-3 September 2017
Description
Thoroughly updated and more comprehensive than ever, the 2017 release of the NIST/EPA/NIH Mass Spectral Library is the one of the most trusted and versatile mass spectral data collections ever published. It is made up of three libraries, an Electron Ionization (EI) mass spectral library, a MS/MS library, and a GC Retention Index library.

This new edition contains:
306,622 EI spectra for over 262,150 compounds
652,475 MS/MS spectra for over 15,243 compounds
404,045 retention index values for over 99,400 compounds
The library showcases an expansion of the main EI library, the MS/MS library, as well as significant improvements in the underlying MS Search software (2.3g).
The new spectra available cover a wide range of compound types, with special emphasis afforded to human and plant metabolites, drugs, peptides, and compounds of industrial and environmental importance.
Data fields accompanying most spectra are chemical name, formula, chemical structure, molecular weight, CAS number, contributor name, list of peaks, synonyms, and estimated and/or measured retention index. The library is also compatible with all of the leading manufacturer formats.