NIST MS/MS Mass Spectral Library 2017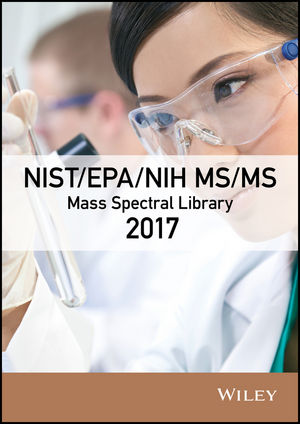 NIST MS/MS Mass Spectral Library 2017
ISBN: 978-1-119-37673-6 October 2017
Description
Newly expanded for its 2017 release, the NIST MS/MS Spectral Library now contains more than twice the spectra of the 2014 release, at 652,475, and more than two times the number of ions, at 123,881.

The library has been expanded to now cover small molecules, di and tri peptides, metabolites, designer drugs, surfactants, and commercially available peptides. Of the included 123,881 ions, there are 1,436 biologically-relevant peptides.
The library now includes:
MS/MS small molecules
Spectra: 574,826 | Compounds: 13,808 | Ions: 118,082
MS/MS commercial peptides
Spectra: 90,244 | Compounds: 1,904 | Ions: 6,803
NIST MS/MS total
Spectra: 652,475 | Compounds: 15,243 | Ions: 123,881

The library is also compatible with all of the leading manufacturer formats.