NVQs in Nursing and Residential Care Homes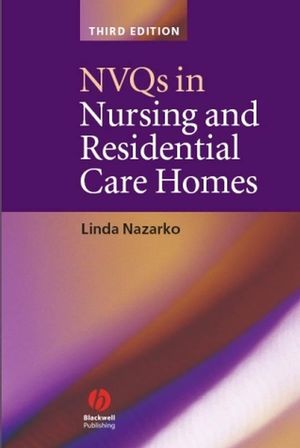 NVQs in Nursing and Residential Care Homes
ISBN: 978-1-405-15743-8
Nov 2006, Wiley-Blackwell
352 pages
Description
People living in nursing and residential care homes are vulnerable to the effects of poor quality care. They rely on staff to assist them with the activities of daily living, to help them manage long term conditions and to support them in leading fulfilling lives. Care home staff need to be caring, compassionate and educated. Government now state that at least 50% of care assistants working in care homes must have a National Vocational Qualification (NVQ) in health and social care at level two or above.





This third edition of NVQs in Nursing and Residential Care Homes is fully updated and tailored to the new NVQ syllabus. It is written specifically for care assistants working in care homes who are studying for NVQ level two in health and social care and also provides a solid foundation for higher levels. Care assistants working with the older person in home care, intermediate care and hospital settings will also find this book helpful. It contains accessible and practical information to enable care assistants to provide sensitive, high quality care to the older person.
Chapter 1:
HSC21 - Communication, relationships and record keeping.
Chapter 2: HSC22 - Health and Safety.
Chapter 3: HSC23 - Develop your knowledge and practice.
Chapter 4: HSC24 - Ensure your own actions support the care, protection and well-being of individuals.
Chapter 5: HSC25 - Care Planning.
Chapter 6: HSC10 - Support individuals to access and participate in recreational activities.
Chapter 7: HSC213 & HSC214 - Provide food and drink for individuals & Help individuals to eat and drink.
Chapter 8: HSC215 - Help individuals to keep mobile.
Chapter 9: HSC217 - Undertake agreed pressure area care.
Chapter 10: HSC218 - Support individuals with their personal care needs.
Chapter 11: HSC219 - Support individuals to manage continence.
Chapter 12: HSC223 - Contribute to moving and handling individual.
Chapter 13: HSC234 - Ensure you own action support the equality, diversity, rights and responsibilities of individuals.
Chapter 14: HSC235 - Enable individuals to negotiate specific environments
Go out and buy as in the eyes of the senior HCA who co-reviewed
NVQ's in Nursing and Residential Care Homes
the book will act as an invaluable NVQ resource, regardless of where the HCA works
British Journal of Healthcare Assistants, Jan 2008
* Fully revised and updated new edition of successful NVQ text
* Written specifically for care assistants working in nursing and residential care homes
* Accessible and practical guide to caring for the older person
* New chapter on equality, diversity, rights and responsibilities
* Now in 2-colour throughout