Naked Conversations: How Blogs are Changing the Way Businesses Talk with Customers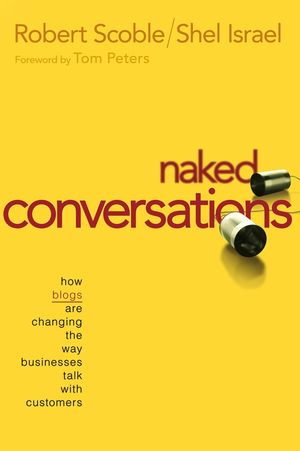 Naked Conversations: How Blogs are Changing the Way Businesses Talk with Customers
ISBN: 978-0-471-79023-5
Apr 2006
251 pages
Product not available for purchase
Description
From the creator of the number one business blog comes a powerful exploration of how, and why, businesses had better be blogging: Naked Conversations.
According to experts Robert Scoble and Shel Israel, blogs offer businesses something that has long been lacking in their communication with customers -- meaningful dialogue. Devoid of corporate-speak and empty promises, business blogs can humanize communication, bringing companies and their constituencies together in a way that improves both image and bottom line.
The authors use more than 50 case histories to explain why blogging is an efficient and credible method of business communication. You'll find yourself excited about the possibilities blogs present after reading just a few pages. Discover how:
Prominent business leaders, including Mark Cuban of the Dallas Mavericks, Bob Lutz from General Motors, and Jonathan Schwartz of Sun Microsystems, are beginning to use blogs to connect with their customers in new ways.
Blogging has changed the rules of communication and competition.
You can launch an effective blogging strategy and the reasons why you should.
Featuring a foreword by Tom Peters, this is a resource you and your business can't do without.
Foreword.
Introduction: Of Bloggers and Blacksmiths.
I. What's Happening.
1. Souls of the Borg.
2. Everything Never Changes.
3. Word of Mouth on Steroids.
4. Direct Access.
5. Little Companies, Long Reach.
6. Consultants Who Get It.
7. Survival of the Publicists.
8. Blogs and National Cultures.
9. Thorns in the Roses.
II. Blogging Wrong & Right.
10. Doing It Wrong.
11. Doing It Right.
12. How to Not Get Dooced.
13. Blogging in a Crisis.
III. The Big Picture.
14. Emerging Technology.
15. The Conversational Era.
Acknowledgments.
Name Index.
Subject Index. 
From this book, students will learn:
Blogging is not just another tactical communications distribution channel, but a new strategic medium that benefits both companies and customers
Why businesses of all sizes and in all places should blog
Why such traditional taboos such as praising competition or publicly discussing product prior to launch make sound business sense in today's new Conversational Era
How a poor understanding of blogs is costing one small specialty manufacturer $10 million in replacement products for disgruntled customers
How a reviled software giant is seeing a new public image of openness develop thanks to thousands of active employee blogs
What an outspoken NBA owner does with his blog to connect to team fans
What employers and employees should know about hiring and firing due to blogging and a code of ethics for blogging
Scoble, a video blogger for Microsoft, and technology guru Israel have put together a bible for business bloggers. Drawn from their own experiences, as well as from numerous comments posted to their blog (http://redcouch.typepad.com/), they have produced a book with the conversational style of blogs. Starting with a brief history of -Word-of-Mouth- products such as the ICQ global instant messaging service and web browser Firefox, and placing blogging firmly in this context, they state that blogs are -Word-of-Mouth on Steroids.- Included are interviews with company bloggers from the technology industry, of course, but also from various other businesses. Scoble and Israel outline the right and the wrong ways to blog in a business context (e.g., don't say anything you wouldn't say directly to a client or the company VP) and provide basic advice on blogging generally and on related emerging technologies. The key points of the book are that blogs are better than traditional one-way marketing because they allow instant two-way communication with customers, developing a loyalty unmatched by other marketing endeavors. In fact, if a business doesn't blog, its customers will abandon that company in favor of one that does. This book should be in all public libraries and academic business collections.—Robert Harbison, Western Kentucky Univ. Lib., Bowling Green (
Library Journal
, January 15, 2006) 
For the past five years, Microsoft employee Scoble has maintained one of the most popular blogs on the Internet. Mixing personal notes with passionate, often-controversial commentary on technology and business, his blog is "naked"—i.e., not filtered through his employer's marketing or public relations department—a key part of its appeal. In this breezy book, Scoble and coauthor Israel argue that every business can benefit from smart "naked" blogging, whether the company's a smalltown plumbing operation or a multinational fashion house. "If you ignore the blogosphere... you won't know what people are saying about you," they write. "You can't learn from them, and they won't come to see you as a sincere human who cares about your business and its reputation." To bolster their argument, Scoble and Israel have assembled an enormous amount of information about blogging: from history and theory to comparisons among countries and industries. They also lay out the dos and don'ts of the medium and include extensive statistics, dozens of case studies and several interviews with famous bloggers. They consider the darker aspects of blogging as well—including the possibility of getting fired by an unsympathetic employer. For companies that have already embraced blogging, this book is an essential guide to best practice. (Feb.) (Publishers Weekly, December 5, 2005)