Nanoethics: The Ethical and Social Implications of Nanotechnology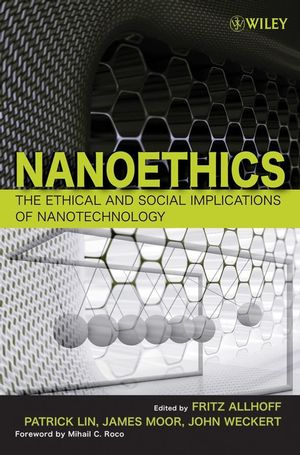 Nanoethics: The Ethical and Social Implications of Nanotechnology
ISBN: 978-0-470-08417-5
Aug 2007
416 pages
Description
Nanotechnology will eventually impact every area of our world

Nanoethics seeks to examine the potential risks and rewards of applications of nanotechnology. This up-to-date anthology gives the reader an introduction to and basic foundation in nanotechnology and nanoethics, and then delves into near-, mid-, and far-term issues. Comprehensive and authoritative, it:
Goes beyond the usual environmental, health, and safety (EHS) concerns to explore such topics as privacy, nanomedicine, human enhancement, global regulation, military, humanitarianism, education, artificial intelligence, space exploration, life extension, and more
Features contributions from forty preeminent experts from academia and industry worldwide, reflecting diverse perspectives
Includes seminal works that influence nanoethics today
Encourages an informed, proactive approach to nanoethics and advocates addressing new and emerging controversies before they impede progress or impact our welfare
This resource is designed to promote further investigations and a broad and balanced dialogue in nanoethics, dealing with critical issues that will affect the industry as well as society. While this will be a definitive reference for students, scientists in academia and industry, policymakers, and regulators, it's also a valuable resource for anyone who wants to understand the challenges, principles, and potential of nanotechnology.
Buy Both and Save 25%!
Original Price:$178.90
Purchased together:$134.18
save $44.72
Cannot be combined with any other offers.
Buy Both and Save 25%!
Original Price:$211.95
Purchased together:$158.96
save $52.99
Cannot be combined with any other offers.
Buy Both and Save 25%!
Original Price:$116.90
Purchased together:$87.68
save $29.22
Cannot be combined with any other offers.
Foreword: Ethical Choices in nanotechnology Development (
Mihail C. Roco
).
Preface.
Contributors.
PART I : Introduction: The Nanotechnology Debate.
1. Nanoscience and Nanoethics: Defining the Disciplines (Patrick Lin and Fritz Allhoff).
2. Why the Future Doesn't Need Us (Bill Joy).
3. On the National Agenda: U.S. congressional Testimony on the Societal Implications of Nanotechnology (Ray Kurzweil).
PART II: Background: Nanotechnology in Context (John Weckert).
4. Nanotech's Promise: Overcoming Humanity's More Pressing Challenges (Christine Peterson and Jacob Heller).
5. Debating Nanotechnologies (Richard A. L. Jones).
6. In the Beginning: The U.S. National Nanotechnology Initiative (Neal Lane and Thomas Kalil).
PART III: Issues: Preparing for the Next Revolution (John Weckert).
7. The Nanotechnology R(Evolution) (Charles Tahan).
8. Technology Revolutions and the Problem of Prediction (Nick Bostrom).
9. Complexity and Uncertainty: A Prudential Approach to Nanotechnology (Jean-Pierre Dupuy).
10. The Precautionary Principle in nanotechnology (John Weckert and James Moor).
PART IV: Issues: Health and Environment (James Moor).
11. Nanotechnology and Risk: What are the Issues? (Anne Ingeborg Myhr and Roy Ambli Dalmo).
12. Personal Choice in the Coming Era of Nanomedicine (Robert A. Freitas, Jr).
13. Are We Playing God With Nanoenhancement (Ted Peters).
14. Anticipating the Ethical and Political Challenges of Human Nanotechnologies (David H. Guston, John Parsi, and Justin Tosi).
PART V: Issues: Democracy and Policy (James J. Hughes).
15. Global Technology Regulation and Potentially Apocalyptic Technological Threats (James J. Hughes).
16. Deliberative Democracy and Nanotechnology (Colin Farrelly).
17. Rhetoric of "Stakeholding" (David M. Berube).
18. Rules of Engagement: Democracy and Dialogue in Creating Nanotechnology Futures (Jack Stilgoe and James Wilsdon).
PART VI: Issues: Broader Societal Impact (John Weckert).
19. Nanotechnology and Privacy: Instructive Case of RFID (Jeroen van den Hoven).
20. Nanotechnology and the Military (Daniel Moore)
21. Can Nanoscience Be a Catalyst For Educational Reform (Patricia Schank, Joseph Krajcik, and Molly Yunker).
22. Impact of Nanotechnologies on Developing Countries (Joachim Schummer).
PART VII: Issues: The Distant Future? (Fritz Allhoff).
23. Challenges and Pitfalls of Exponential Manufacturing (Mike Treder and Chris Phoenix).
24. Nanoethics and the High Frontier (Tihamer Toth-Fejel and Christopher Dodsworth)
25. Ethics for Artificial Intellects (J. Storrs Hall).
26. Nanotechnology and Life Extension (Sebastian Sethe).
Index.
"This is a thought-provoking book … Essential reading for scientists entering the realm of nanotechnology." (
Nanotechnology Perceptions
, July 2008)
"It is recommended reading for scientists and engineers working in all areas of present-day nanoscience and nanotechnology." (Angewandte Chemie, May 13, 2008)
"...this compact collection is highly welcome." (Angewandte Chemie, 2008-47/21)
"…these essays will provide a broad background for those who have yet to discover the many benefits that may result." (Chemistry and Industry, December 2007)