Nanomaterials: Novel Approaches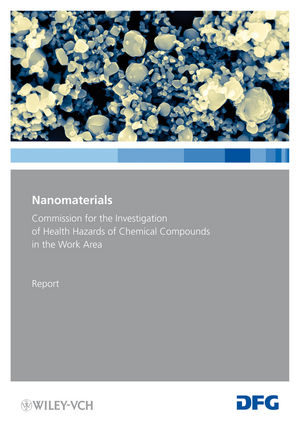 Nanomaterials: Novel Approaches
ISBN: 978-3-527-33571-8
May 2013
100 pages
Product not available for purchase
Description
Production of nanomaterials has been constantly evolving over the last few years for manifold applications in electronic, optical and biomedical fields. As a result, exposure towards nanoparticles in the workplace environment is increasing, while respective occupational exposure limits are lacking.
The Deutsche Forschungsgemeinschaft's Commission for the Investigation of Health Hazards of Chemical Compounds in the Work Area (MAK Commission) recognized the importance of a scientifically based approach to the risk assessment of nanoparticles at the workplace and in 2009 established the ad-hoc working group "Nanoparticles". Its task was to review the current database available for risk assessment for nanoparticles, to identify relevant endpoints of toxicological concern and to define open questions for future research.
This report contains overviews on the important toxicological aspects of the nanoparticles and a summary and conclusions of the discussions that took place during the meetings of the ad hoc working group "Nanoparticles".
Primary Particles -
Agglomerates -
Aggregates (Dirk Walter)
Exposure during Production and Handling of Manufactured Nanomaterials (Markus G. M. Berges)
Toxicokinetics of Inhaled Nanoparticles (Wolfgang G. Kreyling)
Penetration of Nanoparticles through Intact and Compromised Skin (Gintautas Korinth and Hans Drexler)
Studies on the Inhalation Uptake and Effects of Nanomaterials (Robert Landsiedel)
Animal Studies on the Effect of Nanoparticles (GBND) in Organs other than the Lungs (Uwe Heinrich)
Transport of Nanoparticles to the Brain: Concern for Neurotoxicity? (Andrea Hartwig)
Genotoxicity of Nanoparticles (Roel Schins)
Metal-based Nanoparticles with Special Emphasis to Copper (Andrea Hartwig)
Common Denominators of Carbon Nanotubes (Jürgen Pauluhn)
Epidemiological Data (Dirk Pallapies)
Summary and Conclusions (Andrea Hartwig)