Nanomaterials by Severe Plastic Deformation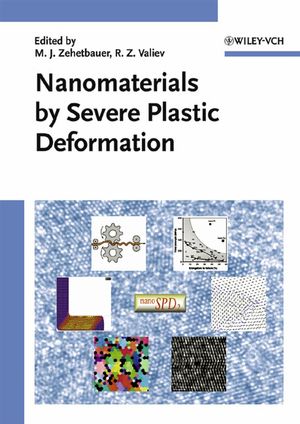 Nanomaterials by Severe Plastic Deformation
ISBN: 978-3-527-60494-4
Mar 2006
872 pages
Description
These proceedings of the "Second International Conference on Nanomaterials by Severe Plastic Deformation" review the enormous scientific avalanche that has been developing in the field over recent years. A valuable resource for any scientist and engineer working in this emerging field of nanotechnology.
I. Reasons to Use Nanostructured Materials.
II. Large Strain Cold Working and Microstructure.
III. Unique Features of SPD - Microstructure and Properties.
IV. Modelling of SPD and Mechanical Properties of SPD Materials.
V. Texture Evolution and Simulation During SPD.
VI. Details of SPD Nanostructures as Investigated by Electron Microscopy.
VII. Analyses of SPD Materials by Selected Physical Methods.
VIII. Influence of Deformation Parameters to SPD Nanostructures.
IX. New Methods of SPD.
X. SPD with Ball Milling and Powder Consolidation.
XI. Mechanical Properties and Thermostability of Nanocrystalline Structures.
XII. Influence of Deformation Path to Properties of SPD Materials.
XIII. Features and Mechanisms of Superelasticity in SPD Materials.
XIV. Mechanisms of Diffusion Related Processes in Nanocrystalline Materials.
XV. Application of SPD Materials.
Author Index.
Subject Index.