Nanomaterials for Environmental Protection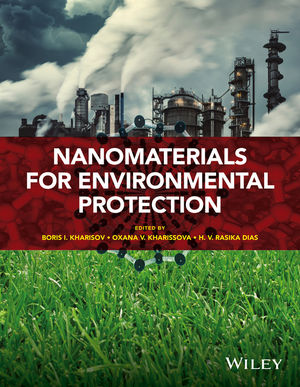 Nanomaterials for Environmental Protection
ISBN: 978-1-118-84554-7
Aug 2014
592 pages
Description
This book is divided into four main sections thoroughly analyzing the use of nanomaterials for water, air and soil solutions, and emphasizing environmental risks. Providing background on nanomaterials' two-decade study, it discusses the characterization and application of unconventional disinfectants, called antimicrobial nanomaterials, which fall into three categories and, while seemingly harmless, have potential hazards if applied improperly. Special attention is given to the process of remediation, synthetics techniques, and properties of nanomaterials, with examples to which new and trained readers in the field can relate and understand.


an interdisciplinary approach, aimed at scientists in physical chemistry, nanotechnology, and environmental sciences
includes applications of non-conventional techniques in environmental protection
furthers the development of applied nanoscience and nanotechnology
suggests new industrial projects and university courses addressing nanotechnology in and for the environment
includes applications for water, air and soil protection
Preface ix
LIST OF CONTRIBUTORS xi
LIST OF ABBREVIATIONS xv
Part I Remediation with use of metals, metal oxides, complexes and composites 1
1 Groundwater Water Remediation by Static Diffusion Using Nano-Zero Valent Metals (Fe0, Cu0, Al0), n-FeHn+, n-Fe(OH)x, n-FeOOH, n-Fe-[OxHy](n+/−) 3
David D.J. Antia
2 Nanostructured Metal Oxides for Wastewater Disinfection 27
Erick R. Bandala, Marco Antonio Quiroz Alfaro, Mónica Cerro-López, and Miguel A. Méndez-Rojas
3 Cu2O-Based Nanocomposites for Environmental Protection: Relationship between Structure and Photocatalytic Activity, Application, and Mechanism 41
Liangbin Xiong, Huaqing Yu, Xin Ba, Wenpei Zhang, and Ying Yu
4 Multifunctional Nanocomposites for Environmental Remediation 71
Suying Wei, Jiahua Zhu, Hongbo Gu, Huige Wei, Xingru Yan, Yudong Huang, and Zhanhu Guo
5 Nanomaterials for the Removal of Volatile Organic Compounds from Aqueous Solutions 85
Amro El Badawy and Hafiz H.M. Salih
6 Hybrid Metal Nanoparticle-Containing Polymer Nanofibers for Environmental Applications 95
Yunpeng Huang, Shige Wang, Mingwu Shen, and Xiangyang Shi
7 Nanomaterials on the Basis of Chelating Agents, Metal Complexes, and Organometallics for Environmental Purposes 109
Boris I. Kharisov, Oxana V. Kharissova, and Ubaldo Ortiz Méndez
Part II Remediation with use of carbon nanotubes 125
8 Carbon Nanotubes: Next-Generation Nanomaterials for Clean Water Technologies 127
Yit Thai Ong, Kian Fei Yee, Qian Wen Yeang, Sharif Hussein Sharif Zein, and Soon Huat Tan
Part III Photo catalytical remediation 143
9 New Advances in Heterogeneous Photocatalysis for Treatment of Toxic Metals and Arsenic 145
Marta I. Litter and Natalia Quici
10 Nanostructured Titanium Dioxide for Photocatalytic Water Treatment 169
David G. Rickerby
11 Destruction of Chloroorganic Compounds with Nanophotocatalysts 183Rashid A. Khaydarov, Renat
R. Khaydarov, and Olga Gapurova
12 Semiconductor Nanomaterials for Organic Dye Degradation and Hydrogen Production via Photocatalysis 193
Leticia M. Torres-Martínez, Isaías Juárez-Ramírez, and Mayra Z. Figueroa-Torres
Part IV Nanoadsorbents and Nanofiltration 205
13 Advanced Oxidation Processes, Nanofiltration, and Application of Bubble Column Reactor 207
Sukanchan Palit
14 Carbon Nanomaterials as Adsorbents for Environmental Analysis 217
Chaudhery Mustansar Hussain
15 Application of Nanoadsorbents in Water Treatment 237
Amit Bhatnagar and Mika Sillanpää
16 Organo-Clay Nanohybrid Adsorbents in the Removal of Toxic Metal Ions 249
Peng Liu
Part V Membranes on nanomaterials basis 269
17 Water Remediation Using Nanoparticle and Nanocomposite Membranes 271
Kian Fei Yee, Qian Wen Yeang, Yit Thai Ong, Vel Murugan Vadivelu, and Soon Huat Tan
Part VI Green methods in nanomaterials synthesis 293
18 Green Methodologies in the Synthesis of Metal and Metal Oxide Nanoparticles 295
Aniruddha B. Patil and Bhalchandra M. Bhanage
19 An Environmentally Friendly and Green Approach for Synthesis and Applications of Silver Nanoparticles 313
Muniyandi Jeyaraj, Muralidharan Murugan, Kevin John Pulikotil Anthony, and Sangiliyandi Gurunathan
20 Green Synthesis of Nanomaterials Using Biological Routes 329
Rajesh Ramanathan, Ravi Shukla, Suresh K. Bhargava, and Vipul Bansal
Part VII CO2 adsorption 349
21 Nanomaterials for Carbon Dioxide Adsorption 351
Luis Ángel Garza Rodríguez and Elsa Nadia Aguilera González
Part VIII Intelligent nanomaterials 373
22 Development of Intelligent Nanomaterials as a Strategy to Solve Environmental Problems 375
Jose Ruben Morones-Ramírez
Part IX Desalination 387
23 Engineered Nanomaterials for Purification and Desalination of Palatable Water 389
Vijay C. Verma, Swechha Anand, Mayank Gangwar, and Santosh K. Singh
Part X Nanocatalysis 401
24 Nanocatalytic Wastewater Treatment System for the Removal of Toxic Organic Compounds 403
Sodeh Sadjadi
25 Catalyst Design Based on Nano-Sized Inorganic Core of Enzymes: Design of Environmentally Friendly Catalysts 429
Mohammad Mahdi Najafpour
Part XI Nanosensors 443
26 Neutron-Fluence Nanosensors Based on Boron-Containing Materials 445
Levan Chkhartishvili
Part XII Nanoreservoirs for hydrogen storage 451
27 Hydrogen Nanoreservoirs made of Boron Nitride 453
Levan Chkhartishvili
Part XIII Fuel cells on nanomaterials basis 469
28 Fuel Cells with Nanomaterials for Ecologically Pure Transport 471
Gennady Gerasimov
Part XIV Remediation of radionuclides 483
29 Humic Functional Derivatives and Nanocoatings for Remediation of Actinide-Contaminated Environments 485
Irina V. Perminova, Stepan N. Kalmykov, Natalia S. Shcherbina, Sergey A. Ponomarenko, Vladimir A. Kholodov, Alexander P. Novikov, Richard G. Haire, and Kirk Hatfield
Part XV Environmental risks and toxicity 503
30 Environmental Risks of Nanotechnology: Evaluating the Ecotoxicity of Nanomaterials 505
Miguel A. Méndez-Rojas, José Luis Sánchez-Salas, Aracely Angulo-Molina, and Teresa de Jesús Palacios-Hernández
31 Environmental Risk, Human Health, and Toxic Effects of Nanoparticles 523
Jamuna Bai A. and Ravishankar Rai V.
32 Implications of the Use of Nanomaterials for Environmental Protection: Challenges in Designing Environmentally Relevant Toxicological Experiments 537
Rute F. Domingos and José P. Pinheiro
Concluding Remarks 551
Author Index 555
Subject Index 559