Nanoscale: Issues and Perspectives for the Nano Century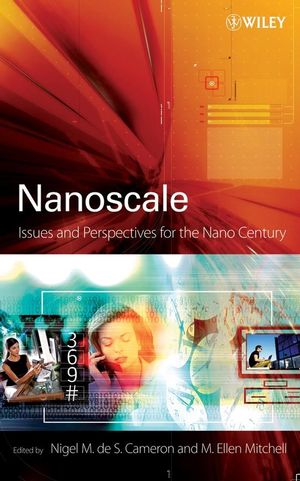 Nanoscale: Issues and Perspectives for the Nano Century
ISBN: 978-0-470-08419-9
Aug 2007
488 pages
Description
An authoritative examination of the present and potential impact of nanoscale science and technology on modern life

Because truly transformative technologies have far-reaching consequences, they always generate controversy. Establishing an effective process for identifying and understanding the broad implications of nanotechnology will advance its acceptance and success, impact the decisions of policymakers and regulatory agencies, and facilitate the development of judicious policy approaches to new technology options.

Nanoscale: Issues and Perspectives for the Nano Century addresses the emerging ethical, legal, policy, business, and social issues. A compilation of provocative treatises, this reference:
Covers an area of increasing research and funding
Organizes topics in four sections: Policy and Perspectives; Nano Law and Regulation; Nanomedicine, Ethics, and the Human Condition; and Nano and Society: The NELSI Imperative
Presents differing perspectives, with views from nanotechnology's most ardent supporters as well as its most vocal critics
Includes contributions from professionals in a variety of industries and disciplines, including science, law, ethics, business, health and safety, government regulation, and policy
This is a core reference for professionals dealing with nanotechnology, including scientists from academia and industry, policy makers, ethicists and social scientists, safety and risk assessment professionals, investors, and others. It is also an excellent text for students in fields that involve nanotechnology.
Preface.
Acknowledgments.
Contributors.
PART 1: POLICY AND PESPECTIVES.
1. The View from Congress: A Roundtable on Nanopolicy (U.S. Congressman Mike Honda, U.S. Congressman Brad Sherman, U.S. Congressman David Weldon, and Marty Spitzer).
2. Nanotechnology and the Two Faces of Risk from a Reinsurance Perspective (Annabelle Hett).
3. Ethics, Policy, and the Nanotechnology Initiative: The Transatlantic Debate on ""Converging Technologies"" (Nigel M. de S. Cameron).
4. Scientific Promise: Reflections on Nano-Hype (M. Ellen Mitchell).
5. Beyond Human Nature: The Debate Over Nanotechnological Enhancement (James Hughes).
6. Nanotechnology Jumps the Gun: Nanoparticles in Consumer Products (Brent Blackwelder).
7. Nanotechnology: Maximizing Benefits, Minimizing Downsides (Jacob Heller and Christine Peterson).
8. Reasoning About the Future of Nanotechnology (Ruthanna Gordon).
9. Nanotechnology and Society: A Call for Rational Dialogue (Jerry C. Collins).
10. Technological Revolutions: Ethics and Policy in the Dark (Nick Bostrom).
PART 2: NANO LAW AND REGULATION.
11. Regulating Nanotechnology: A Vicious Circle (Sonia E. Miller).
12. The European Approach to Nanoregulation (Trudy A. Phelps).
13. The Potential Environmental Hazards of Nanotechnology and the Applicability of Existing Law (George A. Kimbrell).
14. Nanotechnology and the Intellectual Property Landscape (Julie A. Burger, Marianne R. Timm, and Lori B. Andrews).
15. Patenting Trends in Nanotechnology (Jessica K. Fender).
PART 3: NANOMEDICINE, ETHICS, AND THE HUMAN CONDITION.
16. Toward Nanoethics? (Nigel M. de S. Cameron).
17. Anticipating the Impact of Nanoscience and Nanotechnology in Healthcare (Debra Bennett-Woods).
18. Doing Small Things Well: Translating Nanotechnology into Nanomedicine (William P. Cheshire, Jr.).
19. Nanotechnology and the Future of Medicine (C. Christopher Hook).
PART 4: NANO AND SOCIETY: THE NELSI IMPERATIVE.
20. The NELSI Landscape (Michele Mekel and Nigel M. de S. Cameron).
21. The Center for Nanotechnology in Society at Arizona State University and the Prospects for Anticipatory Governance (David H. Guston).
22. The International Council on Nanotechnology: A New Model of Engagement (Kristen M. Kulinowski).
23. From the Lab to the Marketplace: Managing Nanotechnology Responsibly (Vivian Weil).
24. Nanotechnology and the Global Future: Points to Consider for Policymakers (Nigel M. de S. Cameron).
Bibliography.
Index.