Nanoscience and Nanotechnology: Environmental and Health Impacts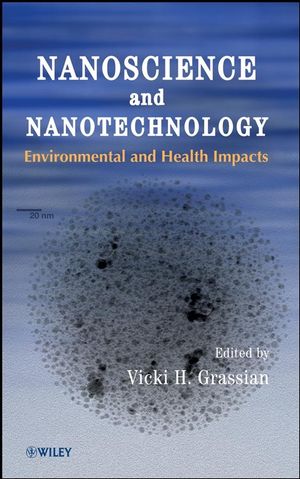 Nanoscience and Nanotechnology: Environmental and Health Impacts
ISBN: 978-0-470-39661-2
Mar 2008
512 pages
Description
This comprehensive book covers various aspects of nanoscience and nanotechnology and what is known about the potential environmental and health impacts. Divided into three main sections, the book addresses the toxicity of nanomaterials, fate and transport of nanomaterials in the environment, and occupational health aspects of nanotechonology.
Preface.
Contributors.
PART I ENVIRONMENTAL AND HEALTH IMPACTS OF NANOMATERIALS: OVERVIEW AND CHALLENGES.
Chapter 1: Nanomaterials and the Environment (Mai A. Ngo, Suzette Smiley-Jewell, Peter Aldous, and Kent E. Pinkerton).
Chapter 2: Assessing the Life Cycle Environmental Implications of Nanomanufacturing: Opportunities and Challenges (Vikas Khanna, Yi Zhang, Geoffrey Grubb, and Bhavik R. Bakshi).
Chapter 3: An Integrated Approach Toward Understanding the Environmental Fate, Transport, Toxicity, and Health Hazards of Nanomaterials (John M. Pettibone, Sherrie Elzey, and Vicki H. Grassian).
PART II FATE AND TRANSPORT OF NANOMATERIALS IN THE ENVIRONMENT.
Chapter 4: Properties of Commercial Nanoparticles that Affect Their Removal During Water Treatment (Paul Westerhoff, Yang Zhang, John Crittenden, and Yongsheng Chen).
Chapter 5: Transport and Retention of Nanomaterials in Porous Media (Kurt D. Pennell, Jed Costanza, and Yonggang Wang).
Chapter 6: Transport of Nanomaterials in Unsaturated Porous Media (Lixia Chen and Tohren C.G. Kibbey).
Chapter 7: Surface Oxides on Carbon Nanotubes (CNTs): Effects on CNT Stability and Sorption Properties in Aquatic Environments (Howard Fairbrother, Billy Smith, Josh Wnuk, Kevin Wepasnick,William P. Ball, Hyunhee Cho, and Fazlullah K. Bangash).
Chapter 8: Chemical and Photochemical Reactivity of Fullerenes in the Aqueous Phase (John D. Fortner, Jaesang Lee, Jae-Hong Kim, and Joseph B. Hughes).
Chapter 9: Bacterial Interactions with CdSe Quantum Dots and Environmental Implications (Jay L. Nadeau, John H. Priester, Galen D. Stucky, and Patricia A. Holden).
PART III TOXICITY AND HEALTH HAZARDS OF NANOMATERIALS.
Chapter 10: Potential Toxicity of Fullerenes and Molecular Modeling of Their Transport across Lipid Membranes (Dmitry I. Kopelevich, Jean-Claude Bonzongo, Ryan A. Tasseff, Jie Gao, Young-Min Ban, and Gabriel Bitton).
Chapter 11: In Vitro Models for Nanoparticle Toxicology (John M. Veranth).
Chapter 12: Biological Activity of Mineral Fibers and Carbon Particulates: Implications for Nanoparticle Toxicity and the Role of Surface Chemistry (Prabir K. Dutta, John F. Long, Marshall V. Williams, and W. James Waldman).
Chapter 13: Growth and Some Enzymatic Responses of E. Coli to Photocatalytic TiO2 319 (Ayca Erdem, Dan Cha, and Chin Pao Huang).
Chapter 14: Bioavailability, Trophic Transfer, and Toxicity of Manufactured Metal and Metal Oxide Nanoparticles in Terrestrial Environments (Jason Unrine, Paul Bertsch, and Simona Hunyadi).
Chapter 15: Health Effects of Inhaled Engineered Nanoscale Materials (Amy K. Madl and Kent E. Pinkerton).
Chapter 16: Neurotoxicity of Manufactured Nanoparticles  (Jaime M. Hatcher, Dean P. Jones, Gary W. Miller, and Kurt D. Pennell).
Chapter 17: Occupational Health Hazards of Nanoparticles (Patrick T. O'Shaughnessy).
References.
Index.
CONTENTS.
""Vicki H. Grassian's book is a one stop source that introduces the reader to a broader representation of nanoscience and nanotechnology and its impact on the environment."" (JOM Book Review Program, March 2010)
""Dr. Grassian's book is a useful compilation of in-depth articles … .A well-balanced book suitable as a useful addition to the personal library of any environmental engineer and manager involved in nanomaterials research."" (
Journal of Environmental Quality
, September 2009)