Nanotechnology: Volume 2: Environmental Aspects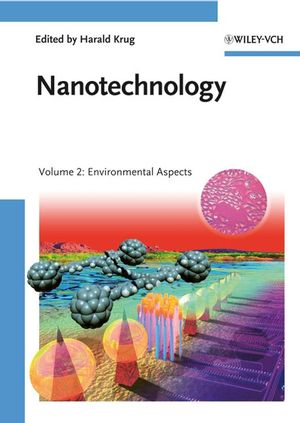 Nanotechnology: Volume 2: Environmental Aspects
ISBN: 978-3-527-31735-6 June 2008 317 Pages
Description
This cutting-edge reference addresses the impact nanotechnology has on the environment. From risks to benefits covered by leading professionals in the field and aimed at a multitude of skill levels and disciplines.

The entire reference set of 9 volumes provides an excellent, in-depth overview of everything you need to know about nanotechnology and nanoscience with each volume dedicated to a specific topic which is covered in detail by experts from that particular field.
Preface.
List of Contributors.
1. Pollution Prevention and treatment Using Nanotechnology (Bernd Nowack).
2. Photocatalytic Surfaces: Antipollution and Antimicrobial Effects (Norman S. Allen, Michele Edge, Joanne Verran, John Stratton, Julie Maltby, and Claire Bygott).
3. Nanosized Photocatalysts in Environmental Remediation (Jess P. Wilcoxon and Billie L. Abrams).
4. Pollution Treatment, Remediation and Sensing (Abhilash Sugunan and Joydeep Dutta).
5. Benefits in Energy Budget (Ian Ivar Suni).
6. An Industrial Ecology Perspective (Shannon M. Lloyd, Deanna N. Lekas, and Ketra A. Schmitt).
7. Composition, Transformation and Effects of Nanoparticles in the Atmosphere (Ulrich Pöschl).
8. Measurement and Detection of Nanoparticles Within the Environment (Thomas A.J. Kuhlbusch, Heinz Fissan, and Christof Asbach).
9. Epidemiological Studies on Particulate Air Pollution (Irene Brüske-Hohlfeld and Annette Peters).
10. Impact of Nanotechnological Developments on the Environment (Harald F. Krug and Petra Klug).
Index..
"Anyone interested in nanomaterials should read this book to learn about the potential impact that these materials may have on our environment, and the ways to take advantage of these new and exciting materials to reduce pollution and protect the environment. These are indeed exciting times for nanotechnology. I am looking forward to reviewing the remaining volumes in this series when they become available." (
IEEE Electrical Insulation Magazine
, May/June 2009)
"This volume … treats environmental aspects, explaining the risk and benefits of nanotechnology. The authors—experts in the field, cover aspects on pollution prevention and treatment using nanotechnology, together with the impact of nanomaterials on the environment ... .Each chapter of the book includes a rich reference list." (Environmental Engineering and Management Journal, January/February 2009)