Narrative Mediation: A New Approach to Conflict Resolution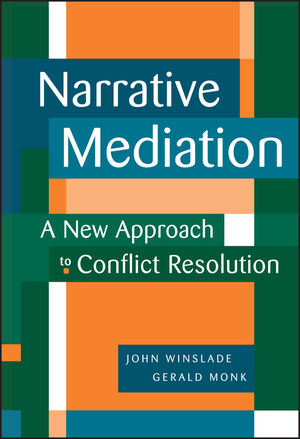 Narrative Mediation: A New Approach to Conflict Resolution
ISBN: 978-0-787-94192-5
Jan 2000, Jossey-Bass
288 pages
Description
In this groundbreaking book, John Winslade and Gerald Monk -- leaders in the narrative therapy movement-introduce an innovative conflict resolution paradigm that is a revolutionary departure from the traditional problem-solving, interest-based model of resolving disputes. The narrative mediation approach encourages the conflicting parties to tell their personal ""story"" of the conflict and reach resolution through a profound understanding of the context of their individual stories. The authors map out the theoretical foundations of this new approach to conflict resolution and show how to apply specific techniques for the practical application of narrative mediation to a wide-variety of conflict situations.
Preface.

Acknowledgments.

Narrative Mediation: What Is It?

Theoretical and Philosophical Issues in Narrative Mediation.

A Narrative Model of Mediation.

Entitlement.

The Relational Context of Narrative Mediation.

Disarming the Conflict.

Opening Space.

Building Momentum.

Getting Unstuck.

Documenting Progress.

About the Authors.

Index.
""A groundbreaking book bringing together ideas of social constructionist theory, narrative therapy, and mediation. The authors develop a very clear framework toward understanding this approach with case examples provided. I found this book useful to me both as a practitioner and as a researcher."" (Jerry Gale, director, MFT Doctoral Program, Department of Child and Family Development, The University of Georgia, Co-PI Mediator Skills ProjectJerry Gale, director of the MFT Doctoral Program, Department of Child and Family Development, The University of Georgia, Co-PI Mediator Skills Project)

""An important ""must-read"" for anyone who is contemplating mediation. John Winslade and Gerald Monk are consummately qualified to bring us this book that is rich in a social constructionist understanding and revolutionary in approach. Focusing on stories of respect, mutuality, consideration, and support, their suggestions can only lead to new possibilities of peaceful coexistence--on both personal and global levels."" (Victoria C. Dickerson, cofounder, planet-therapy.com and coauthor, If Problems Talked: Narrative Therapy in Action)