Narrative Perspectives on Adult Education: New Directions for Adult and Continuing Education, Number 126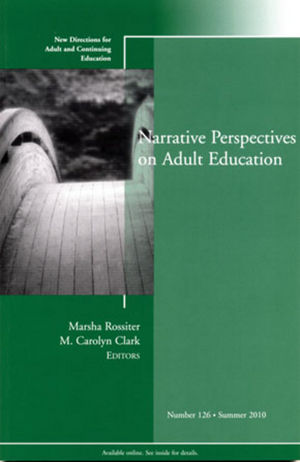 Narrative Perspectives on Adult Education: New Directions for Adult and Continuing Education, Number 126
ISBN: 978-0-470-87465-3
Jul 2010, Jossey-Bass
112 pages
Description
This volume presents a variety of perspectives on the role of narrative in adult learning and explores how those perspectives can be translated into practice. Interest in narrative among adult educators has been a continuing strand of our professional dialogue for some time, and it continues to grow as we become increasingly appreciative of the multifaceted views of adult learning that are revealed through the narrative lens. The range of narrative applications, implications, and perspectives in adult education is practically limitless. The perspectives included in this sourcebook, while not an exhaustive review, do convey something of the rich variety and scope a narrative approach offers adult learning.

This is the 126th volume of the Jossey-Bass higher education quarterly report series New Directions for Adult and Continuing Education. Noted for its depth of coverage, New Directions for Adult and Continuing Education is an indispensable series that explores issues of common interest to instructors, administrators, counselors, and policymakers in a broad range of adult and continuing education settings, such as colleges and universities, extension programs, businesses, libraries, and museums.
EDITORS'NOTES
(
Marsha Rossiter, M. Carolyn Clark
).
1. Narrative Learning: Its Contours and Its Possibilities (M. Carolyn Clark)
Narrative learning offers rich possibilities for adult education. Its foundations are described and a narrative perspective on transformational learning is explored.
2. Summoning the Past: Autobiography as a "Movement Toward Possibility" (Irene E. Karpiak)
When adults write their lives, their narratives generate personal learning, not only for the author, but also for the teacher, who gains an "inside view" of the lives of learners.
3. Storywork: Autobiographical Learning in Later Life (William Randall)
Autobiographical learning from life stories is pivotal to aiding the older adult learner to continue to grow old in wisdom and self-knowledge in the later years of life.
4. Digital Storytelling: A New Player on the Narrative Field (Marsha Rossiter, Penny A. Garcia)
Digital stories represent the meeting of narrative and technology. The authors describe the process of digital storytelling and suggest its unique contributions to adult learning.
5. Narratives from Popular Culture: Critical Implications for Adult Education (Robin Redmon Wright)
This chapter explores the public pedagogy of six political narratives from popular television and describes the use of one narrative of resistance to facilitate adult learning about the concept of hegemony.
6. Composing Narratives and Opening Spaces—Exploring Intercultural and Gender Themes Through Dialogue (Carol Smith Witherell)
Using analogies from the arts, the author explores the use of dialogue practices that enhance our capacity for empathy, imagination, and intercultural understanding.
7. Learning in the Dimension of Otherness: A Tool for Insight and Empowerment (Juanita Johnson-Bailey)
The author discusses how shared narratives have a place in the learning community of a classroom through the exchange of ideas and the valuing of what the "other" can indeed teach you.
8. Editors' Conclusion (Marsha Rossiter, M. Carolyn Clark)
The editors briefly comment on two themes of the narrative perspectives in this issue—claiming power and transformational learning.
Index.