Narrative Research in Health and Illness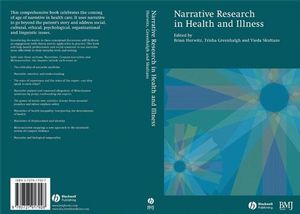 Narrative Research in Health and Illness
ISBN: 978-1-405-14619-7 April 2008 BMJ Books 456 Pages
Description
This comprehensive book celebrates the coming of age of narrative in health care. It uses narrative to go beyond the patient's story and address social, cultural, ethical, psychological, organizational and linguistic issues.
This book has been written to help health professionals and social scientists to use narrative more effectively in their everyday work and writing.
The book is split into three, comprehensive sections; Narratives, Counter-narratives and Meta-narratives.
Table of contents
1. The ethicality of narrative medicine.
2. Soldiers become casualties: doctor's accounts of the SARS epidemic.
3. Poems from the heart: living with heart failure.
4. performance narratives in the clinical world.
5. "I cut because it helps": narratives of self injury.
6. The DIPex project: collecting personal experiences.
7. Narratives of spirituality and religion in the end-of-life care.
8. The death of the narrator.
9. Narrative, emotion and understanding.
10. The voice of experience and the voice of the expert - can they speak to each other?.
11. Wounded or warrior? Stories of being or becoming deaf.
12. Narrative analysis and contested allogations of Munchausen syndrome by proxy.
13. Confounding the experts: the vindication of parental testimony in shaken baby syndrome.
14. Narratives of compound loss: parents' stories from the organ retention scandal.
15. The power of stories over statistics: lessons form neonatal jaundice and infant airplane safety.
16. Narratives of health inequality: interpreting the determinants of health.
17. Narratives of displacement and identity.
18. A thrice-told tale: new readings of an old story.
19. The role of stories and storytelling in organisational change efforts: a field study of an emerging "community of practice" within the UK National Health Service.
20. Meta-narrative mapping: a new approach to the systematic review of complex evidence.
21. How narratives work in psychiatric science: an example from the biological psychiatry of PTSD.
22. Storytelling policy: constructions of risk in proposals to reform UK mental health legislation.
23. The temporal construction of medical narratives
Features
Explores the intellectual basis of narrative in medicine

Contributors and editors are leading figures in the field

A timely book when the interface between evidence based and patient centred medicine is increasingly important