Narrative Research in Nursing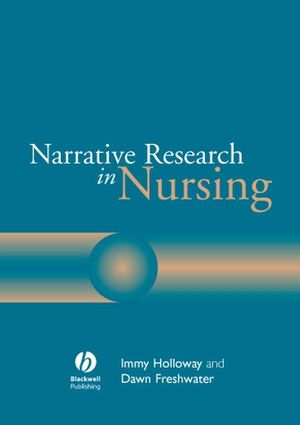 Narrative Research in Nursing
ISBN: 978-1-444-31651-3 October 2009 Wiley-Blackwell 184 Pages
Description
Narrative research is an increasingly popular way of carrying out qualitative research by analysing the stories or experience. The findings of this type of qualitative research can be used to improve nursing education, nursing practice and patient care and to explore the experience of illness and the interaction between professionals.
Narrative Research in Nursing
provides a comprehensive yet straightforward introduction to narrative research which examines the skills needed to perform narrative interviews, analyse data, and publish results and enables nurse researchers to use the method systematically and rigorously.
Narrative Research in Nursing examines the nature of narratives and their role in the development of nursing and health care. Strategies and procedures are identified, including the practicalities of sampling, data collection, analysis and presentation of findings. The authors discuss authenticity of evidence and ethical issues while also exploring problems and practicalities inherent in narrative inquiry and its dissemination. Narrative Research in Nursing is a valuable resource for nurses interested in writing and publishing narrative research.
Table of contents
Section 1: The nature of narratives.
Chapter 1 What is a narrative?.
Chapter 2 The appropriateness of narratives for nursing and health care.
Chapter 3 Social construction, postmodernism and narrative identity.
Chapter 4 Rigour in narrative research.
Section 2: Strategies and procedures in narrative research.
Chapter 5 The art of sampling.
Chapter 6 Data collection in narrative research.
Chapter 7 Narrative analysis: Contextualising narratives.
Chapter 8 Presenting the findings.
Section 3: Quality and authenticity in narrative research.
Chapter 9 Narrative and ethics.
Chapter 10 Critical review and problems.
Chapter 11 The evaluation of narrative research reports and articles.
Chapter 12 Publication and dissemination.
Section 4: The practicalities of narrative research.
Chapter 13 The skills of the narrative researcher.
Chapter 14 Transcribing narrative data.
Chapter 15 Writing a proposal for narrative research nursing
Reviews
"This is an excellent book that offers a clear well-written and accessible guide to relatively new research method for many health professionals." (
Practising Midwife
, December 2008)
"This book is very much a 'must have' handbook for those embarking on undertaking narrative research." (Nursing Times, 2 Oct 2007)

"Any book that promotes qualitative research and links it in with the art of nursing gets my vote... The authors set about the topic with obvious enthusiasm. The short, sharp chapters address all the hot topics of narrative research, including ethical principles and what to do if you feel your subjects are not telling the truth." (Nursing Standard, vol 21, May-June 2007)
Features
* Accessible, authoritative introduction to narrative research in nursing
* Stresses the importance of critical evaluation
* Includes case studies and clinical examples
* Covers methodological and practical issues