Narrative Therapy in Practice: The Archaeology of Hope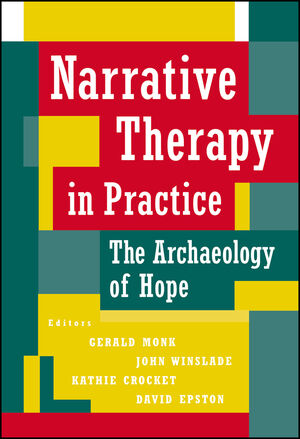 Narrative Therapy in Practice: The Archaeology of Hope
ISBN: 978-0-787-90313-8
Oct 1996, Jossey-Bass
352 pages
Description
How to apply the definitive postmodern therapeutic technique in a variety of situations, including treating alcoholics, counseling students, treating male sexual abuse survivors, and more. Written with scholarship, energy, practicality, and awareness.
Introduction.

THEORY.

How Narrative Therapy Works (Gerald Monk).

The Theoretical Story of Narrative Therapy (Wendy Drewery & John Winslade).

The Therapeutic Relationship (John Winslade, et al.).

Learning and Teaching Narrative Ideas (Wally McKenzie & Gerald Monk).

PRACTICE.

Leila and the Tiger: Narrative Approaches to Psychiatry (Glen J. Simblett).

Countering Alcoholic Narratives (John Winslade & Lorraine Smith).

Therapy with Male Sexual Abuse Survivors: Contesting Oppressive Life Stories (Tim Harker).

School Counseling in a Narrative Mode (John Winslade & Aileen Cheshire).

Appreciating Indigenous Knowledge in Groups (Glen Silvester).

Moving from Problem Solving to Narrative Approaches in Mediation (John Winslade & Alison Cotter).

Health-Promoting Conversation (Bev McKenzie).

Epilogue.
"The utility of this volume's conservative social constructionist praxis is undeniable. . . . Narrative Therapy in Practice nevertheless provides scholarly and lucidly assembled contributions that significantly broaden the scope of narrative praxis, and for this reason it is recommended reading." (Contemporary Psychology)

". . . recommend Narrative Therapy in Practice . . . to professionals and therapists in training who are interested in learning the theory and the practice of narrative work." (American Association for Marriage and Family Therapy)

?This book is a testimony to the spirit of a community of therapists in New Zealand who set about supporting each other in explorations of the practice, ethics and politics of what has come to be known as ?Narrative Therapy.? But more than this, it constitutes a powerful invitation to us all to follow suit, to join with others in the generation of new options for action in this work. Inspired reading.? (Michael White, Dulwich Centre, Adelaide, Australia)

?A wonderful book! Readable and lucid, it clarifies narrative therapy and its specifics for both the beginner and advanced practitioner--and it is also theoretically powerful. I liked the scholarship, the energy, the practicality, and the awareness of complex multicultural issues.? (Allen E. Ivey, distinguished university professor, school and counseling psychology program, University of Massachusetts)

?In this clearly written book, the focus is not on `experts' solving problems, it is on people becoming `consultants to themselves', and dissolving their problems by discovering in dialogue, the new and better, but previously unrecognized possibilities they already contain within themselves. An important and useful book indeed.? (John Shotter, professor of interpersonal relations, Department of Communication, University of New Hampshire)