Nation of Letters: A Concise Anthology of American Literature, Volume 2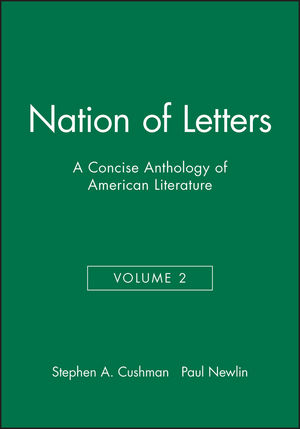 Nation of Letters: A Concise Anthology of American Literature, Volume 2
ISBN: 978-1-881-08990-2
Jul 2005, Wiley-Blackwell
432 pages
Description
Nation of Letters evokes the wisdom and artistic literary expression inherent in the American experience at its best. The editors have produced an anthology of manageable size and affordable length, one that can comfortably be carried to the classroom.


Beginning with Twain and Howells, the 127 selections include poetry, fiction, and essays, and span the decades through the poems of Ginsburg and Plath.
1. Samuel L. Clemens.
2. William Dean Howells.
3. Ambrose Bierce.
4. Henry James.
5. Joel Chandler Harris.
6. Sarah Orne Jewett.
7. Kate Chopin.
8. Charles Waddell Chesnutt.
9. Booker T. Washington.
10.Charlotte Perkins Gilman.
11.Hamlin Garland.
12.Edith Wharton.
13.Edgar Lee Masters.
14.W. E. B. Du Bois.
15.Edwin Arlington Robinson.
16.Frank Norris.
17.Stephen Crane.
18.Theodore Dreiser.
19.Willa Cather.
20.Robert Frost.
21.Sherwood Anderson.
22.Jack London.
23.Carl Sandburg.
24.Wallace Stevens.
25.William Carlos Williams.
26.Sinclair Lewis.
27.Ezra Pound.
28.H.D. (Hilda Doolittle).
29.Marianne Moore.
30.T.S. Eliot.
31.John Crowe Ransom.
32.Claude Mckay.
33.Zora Neale Hurston.
34.Edna St. Vincent Millay.
35.ee cummings.
36.Jean Toomer.
37.F. Scott Fitzgerald.
38.William Faulkner.
39.Hart Crane.
40.Ernest Hemingway.
41.Langston Hughes.
42.Theodore Roethke.
43.Richard Wright.
44.Elizabeth Bishop.
45.John Berryman.
46.Ralph Ellison.
47.Robert Lowell.
48.James Baldwin.
49.Flannery O'Conner.
50.Allen Ginsberg.
51.Sylvia Plath.
Bibliography.