National Civic Review, Volume 91, No. 3, Fall 2002, Social Capital and New Urbanist Design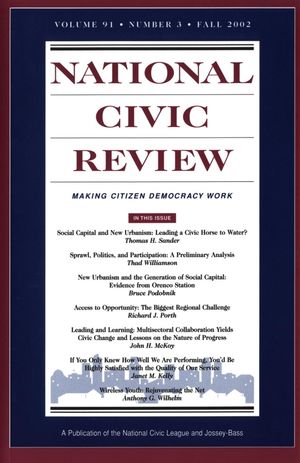 National Civic Review, Volume 91, No. 3, Fall 2002, Social Capital and New Urbanist Design
ISBN: 978-0-787-96363-7
Dec 2002
112 pages
Product not available for purchase
Description
For much of the last century, civic planning acted on the principle that we were only the next subdivision away from the American dream. Sprawl, dislocation, and civic disengagement was the result. Social capital, those social networks and the attendant norms of trust and reciprocity, became an endangered resource. By promoting communities that are denser, less car-dependent and have a diverse mix of residential, business, and retail elements, New Urbanism seeks to rebuild the ties between individuals and their communities. Such communities, New Urbanism argues, foster more interaction among their residents, and lead to an increase in bonding social capital.

This issue examines in depth the potential impact of New Urbanist design principles in the creation of social capital and analyzes the underlying premise of New Urbanism which argues that how we design our communities affects how we live our lives. Contributors provide a comprehensive introduction to the issues, assess what has been learned so far, and indicate directions for further research.

Chapters include a comparative analysis of New Urbanist neighborhoods in Portland, Oregon, that reveals how initial composition of such neighborhoods by self-selecting residents creates high levels of bonding, but community composition shifts over time also need to be factored in. The intriguing relationship between reduced dependence on the automobile and civic engagement is studied in depth, along with the clear need to change how we formulate urban policy and foster suburban expansion. Methods to increase collaboration among a diverse set of interests and the importance of civic intermediary organizations in convening discussions and fostering productive relationships are also explored.
NOTE FROM THE PRESIDENT (Christopher T. Gates).
ARTICLES.
Social Capital and New Urbanism: Leading a Civic Horse to Water? (Thomas H. Sander)
The first task in understanding the relations between social capital and New Urbanist design is to establish the requisite conceptual clarity for inquiry. Thomas Sander accomplishes this and provides an insightful review of the existing studies to date.
Sprawl, Politics, and Participation: A Preliminary Analysis (Thad Williamson)
This article is a model of accessible social science that disaggregates the general question concerning possible effects of New Urbanist design on social capital into a number of analyzable relations and then puts the pieces together to consider what we know.
New Urbanism and the Generation of Social Capital: Evidence from Orenco Station (Bruce Podobnik)
A New Urbanist development in Portland, Oregon, provides the focus for an interview-based comparative analysis to assess levels of social capital among different neighborhoods.
Access to Opportunity: The Biggest Regional Challenge (Richard J. Porth)
The executive director of the Capitol Region Council of Governments in Hartford, Connecticut, underscores the need to address the increasing lack of opportunity confronting low-income people as poverty becomes more concentrated in central cities.
Leading and Learning: Multisector Collaboration Yields Civic Change and Lessons on the Nature of Progress (John H. McKoy)
Civic intermediary organizations are playing increasingly important roles in the decision-making and problem-solving networks of our nation's communities. The executive director of DC Agenda details some of the lessons learned in this process.
If You Only Knew How Well We Are Performing, You?d Be Highly Satisfied with the Quality of Our Service (Janet M. Kelly)
This article by a political scientist cautions that the emphasis on performance measurement within public management may have the unintended effect of reducing government responsiveness to citizens' preferences.
Wireless Youth: Rejuvenating the Net (Anthony G. Wilhelm)
The vice president for programs at the Benton Foundation examines the challenges and opportunities that the Internet presents for the civic engagement of the next generation.