National Trust Guide/San Francisco: America's Guide for Architecture and History Travelers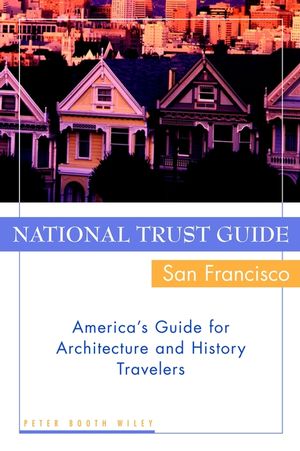 National Trust Guide/San Francisco: America's Guide for Architecture and History Travelers
ISBN: 978-0-471-19120-9
Sep 2000
432 pages
Description
National Trust guides are the most in-depth guides available to the history and architecture of U.S. cities. From famous landmarks to back alleys, they take you on exciting journeys through America's cultural, historical, and architectural treasures.

The complete guide to the history and architecture of San Francisco Part history, part travel guide, this unique book introduces you to the colorful past and diverse traditions that have shaped the fascinating city of San Francisco. From the arrival of the Spanish in the late eighteenth century to the growth of today's vibrant metropolis, you'll discover the links between the rich history and architectural heritage of one of America's most beloved cities.

Follow the book's outstanding walking tours as you explore the remnants of the Gold Rush era city and the early neighborhoods of Telegraph Hill, Chinatown, and South of Market. You'll also enjoy the beautiful Beaux-Arts mansions of Pacific Heights, the striking Queen Anne residences of Haight-Ashbury, the converted warehouses of the Multi-Media Gulch, and much more.
* 20 detailed neighborhood walking tours and easy-to-follow maps
* Colorful stories behind the city's best known landmarks
* 200 vintage and contemporary photographs
SAN FRANCISCO: A HISTORY.

A Beautiful City in the Wrong Place.

Before the Gold Rush.

City of Gold, City of Silver.

Urban Ambitions.

Phoenix Rising.

The Pacific Rim Metropolis.

The City Moves South.

NEIGHBORHOOD WALKING TOURS.

San Francisco Architecture: A Style of Its Own.

Gold Rush City.

The Downtown/Financial District.

Chinatown.

The Union Square Area.

The Civic Center.

South of Market.

Telegraph Hill, the Barbary Coast, and North Beach.

Russian Hill, Nob Hill, and Pacific Heights.

The Western Addition, the Mission, and the Haight-Ashbury.

Fisherman's Wharf, Aquatic Park Historic District, Angel Island, Alcatraz, and Fort Mason.

Cow Hollow, the Marina, and the Presidio.

Golden Gate Park, the Cliff House and Sutro Heights, and the California Palace of the Legion of Honor.

The Western Suburbs, Stern Grove, and the Zoo: A Driving Tour.

Epilogue: The Limits of Preservation.

Footnotes.

Bibliography.

Index.