Natural Climate Variability and Global Warming: A Holocene Perspective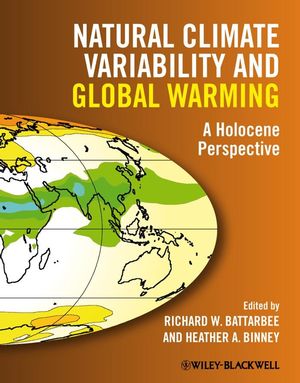 Natural Climate Variability and Global Warming: A Holocene Perspective
ISBN: 978-1-444-30093-2 March 2009 Wiley-Blackwell 288 Pages
Description
Whilst there is now overwhelming evidence that greenhouse-gas pollution is becoming the dominant process responsible for global warming, it is also clear that the climate system varies quite naturally on different time-scales. Predicting the course of future climate change consequently requires an understanding of the natural variability of the climate system as well as the effects of human-induced change. This book is concerned with our current understanding of natural climate change, its variability on decadal to centennial time-scales, the extent to which climate models of different kinds simulate past variability, and the role of past climate variability in explaining changes to natural ecosystems and to human society over the later part of the Holocene. The book highlights the need to improve not only our understanding of the physical system through time but also to improve our knowledge of how people may have influenced the climate system in the past and have been influenced by it, both directly and indirectly.
This ground-breaking text addresses predictable modification in the climate system in the context of global warming. Ideal for researchers and advanced students, it explores current thinking on natural climate change.
Addresses the natural variability of the climate system in the context of global warming

Contributes substantially to the ongoing discussion on global warming
Integrates state of the art research and brings together modeling and data communities in a balanced way
Considers questions of climate change on different time-scales
"Natural climate variability and global warming is clearly an important book, well-focused and distinctive, with fundamental things to say about Holocene science and its interface with the practical problem of global warming. It is an authoritative, up-to-date summary and synthesis of current knowledge in this area and is attractively produced with clear, colour illustrations throughout. It is a 'must' for all university libraries and our private book collections." The Holocene, 2009.
Table of contents
Contributors.
Abbreviations.
1. Holocene climate variability and global warming (Richard W. Battarbee).
2. Holocene climate research – progress, paradigms, and problems (H. John B. Birks).
3. The role of people in the Holocene (Frank Oldfield).
4. Modelling the climate of the Holocene (Michel Crucifix).
5. The early to mid-Holocene thermal optimum in the North Atlantic (Eystein Jansen, Carin Andersson, Matthias Moros, Kerim H. Nisancioglu, Birgitte F. Nyland, and Richard J. Telford).
6. Holocene climate change and the evidence for solar and other forcings (Juerg Beer and Bas van Geel).
7. Climate of the past millennium: combining proxy data and model simulations (Hugues Goosse, Michael E. Mann, and Hans Renssen).
8. Latitudinal linkages in late-Holocene moisture-balance variation (Dirk Verschuren and Dan J. Charman).
9. Holocene rapid land-cover changes – evidence and theory (Martin Claussen).
10. Holocene perspectives on future climate change (Ray Bradley).
Index.
Reviews
"Volumes such as this provide the historical contexts and broad overviews needed to advance climate change biology toward broader conceptual developments and synthetic methodologies for understanding and predicting climate change effects, as well as developing effective adaptation and mitigation strategies.". (The Quarterly Review of Biology, 1 December 2010)
"This is an important book for understanding climate changes in a longer perspective." (Geologos, 2010)
"This book brings together some of the most prolific names in their field to create a sound and interesting look into this area." (The Environmentalist, November 2009)
"It highlights the need to improve not only our understanding of the physical system through time but also our knowledge of human influence on the climate system and vice versa." (Bulletin of the American Meteorological Society , April 2009)
"Although aimed at 'researchers and advanced students', this layman found the book perfectly accessible." (Geoscientist, August 2009)
"The rapid climate change that seems to be occurring world-wide make this volume both timely and instructive, concentrating as it does on the Holocene period.... An essential addition for an meteorological library." (The International Journal of Meteorology, April 2009)
The Holocene, the interval covered by the last 12,000 years, represents a largely nonglacial period in Earth's climatic evolution. This book synthesizes the climate history of this interval and investigates the role of natural climate variability in explaining current global warming. The volume contains ten chapters written by experts in various aspects of past climate change. Chapter 1 provides a short introduction and outlines the objectives/contents of subsequent chapters. The next chapter, the longest (51 pages), considers the progress, paradigms, and problems in Holocene climate research. Chapter 3 addresses the fundamental question of the human role in the changing climate of the Holocene while acknowledging that climate change itself has strongly impacted the history of civilizations. Our ability to predict future climate depends on our ability to reconstruct and model what has already happened; chapter 4 explores this vital issue. Subsequent chapters examine some relevant intervals including the so-called Holocene thermal optimum, and evaluate and model what natural processes might have contributed to observed climate histories. The final chapters assess rapid land-cover change and analyze future climate change within the perspective of the last 12,000 years. Includes chapter references, an eight-page index, and a three-page summary of abbreviations and dating conventions. Summing Up: Recommended. Graduate students, researchers, faculty, professional audiences. -- J. T. Andrews, University of Colorado at Boulder (Choice, February 2009)
Features


Addresses the natural variability of the climate system in the context of global warming

Contributes substantially to the ongoing discussion on global warming

Integrates state of the art research and brings together modeling and data communities in a balanced way

Considers questions of climate change on different time-scales