Navigate the Noise: Investing in the New Age of Media and Hype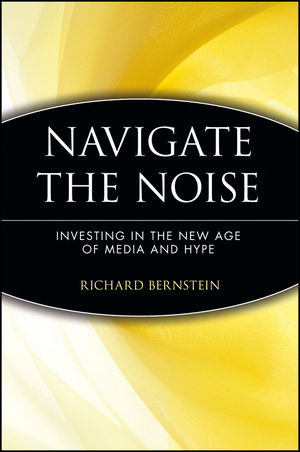 Navigate the Noise: Investing in the New Age of Media and Hype
ISBN: 978-0-471-21758-9
Mar 2002
252 pages
Product not available for purchase
Description
In an investment climate characterized by rapidly increasing access to information, sorting legitimate financial advice, grounded in traditional analysis, from the constant stream of useless information, or "noise," is difficult. Let author Richard Bernstein guide you through the "noise" and show you where and how to find solid investment information. Order your copy of Navigate the Noise today and transform today's surplus of investment information into a high-level investment strategy.
Acknowledgments.
Introduction.
Chapter 1. What Is Noise?
Chapter 2. The Risks of Do-It-Yourself Investing: What You Don't Know Could Hurt Your Performance.
Chapter 3. Noise and Expectations: What Goes Around, Comes Around.
Chapter 4. Noise and Long-Term Investment Planning.
Chapter 5. Noise and Diversification.
Chapter 6. Noise, Risk, and Risk Assessment.
Chapter 7. Investment Losses, Time Horizon, and Risk.
Chapter 8. Don't Search for Good Companies, Search for Good Stocks.
Chapter 9. What Makes a Good Analysts?
Chapter 10. Growth and Value and Noise.
Chapter 11. A Preflight Checklist.
Glossary of "Noisy" Terms.
Notes.
Index.
"...has a lively writing style and dissects the rather cluttered world of financial information in a manner helpful for individual investors." (Wall Street Journal, August 7, 2006)
The author's previous book is on the recommended reading list from the CFA.
The author's industry connections include the Merrill Lynch Private and International Client sales force of over 14,000 brokers.
Fills a niche that no book has approached, namely how to incorporate and filter a surplus of new investor information into a sound high-level investment strategy.