Navigating the Financial Blogosphere: How to Benefit from Free Information on the Internet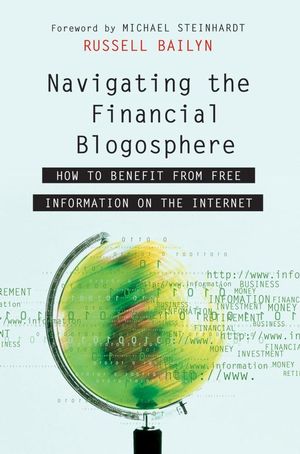 Navigating the Financial Blogosphere: How to Benefit from Free Information on the Internet
ISBN: 978-1-118-16068-8
Oct 2011
220 pages
Description
Praise for Navigating the Financial Blogosphere

"Navigating the Financial Blogosphere is the most enjoyable personal finance book I've ever read. I read it cover to cover within an afternoon, and I didn't want to put it down. It's fresh, practical, and broad in its topic coverage and should be on the top of every person's reading list. Russell Bailyn is a super-talented rising star."
-Matthew D. Hutcheson, Independent Pension Fiduciary, expert Congressional witness on retirement plan economics

"Financial information on the Internet has exploded in volume; the challenge is to find what's useful and reliable. Russell Bailyn's book does an excellent job of presenting important personal finance topics in a clear and digestible form, and pointing readers to a wealth of high-quality sources on the Internet. Navigating the Financial Blogosphere is browsable, fun, and very useful."
-David Jackson, founder and CEO, SeekingAlpha.com

"Russell Bailyn not only explains financial decision making, but like a good research librarian, he tells you where to go on the Web for more information. You'll want to be close to your computer as you read this book."
-Joseph Hurley, founder and CEO, Savingforcollege.com LLC
Foreword.
Preface.
Acknowledgments.
About the Author.
Introduction. Why Navigate the Blogosphere?
Part One. First Perspectives on Money.
Chapter 1. How Do I Choose a Bank? Does it Really Matter?
Chapter 2. What Are Personal Financial Statements, and Why Do I Need Them?
Chapter 3. Can a Budget Really Help Me?
Chapter 4. Are Credit Cards My Enemy?
Chapter 5. Are You Scared of Your Credit Score?
Part Two. Building Wealth Requires Planning.
Chapter 6. What Is the Role of a Financial Advisor?
Chapter 7. How Does the Financial Planning Process Work?
Chapter 8. Why is Money Emotional?
Chapter 9. Why Should I Open an IRA?
Chapter 10. What's a 401k Rollover? Is that Something I Can Teach my Dog?
Chapter 11. What's the Difference between a 401k and 403b Plan?
Chapter 12. How do I Pay for College? (Part I). Borrowing Money for your Future.
Chapter 13. How do I Pay for College? (Part II). Saving in Advance.
Part Three. Living in a Financial World.
Chapter 14. Are You Ready to Pick Your Own Stocks?
Chapter 15. What are Alternative Investments?
Chapter 16. How Do I Pick Mutual Funds?
Chapter 17. Exchange-Traded Funds. What are They and Should I Buy One?
Chapter 18. Can I Dabble in Real Estate Too?
Chapter 19. How Can I Unravel the Mortgage Mystery?
Chapter 20. What Are All These Different Financial Designations?
Chapter 21. Exploring the Variable Annuity. What's all the Chatter About?
Part Four. Thinking Long-Term About Money Management.
Chapter 22. How Can I Manage My Portfolio Through Asset Allocation and Rebalancing?
Chapter 23. The Fed? Interest Rates? Inflation? Why Should I Care?
Chapter 24. Life Insurance is Boring. What do I need to Know?
Chapter 25. What Do I Need to Know About Retirement?
Chapter 26. What are my Chances of Getting Social Security?
Chapter 27. What is This Pension Crisis I Keep Hearing About, and How Will It Affect My Retirement?
Index.