Negotiating Difference in the Hispanic World: From Conquest to Globalisation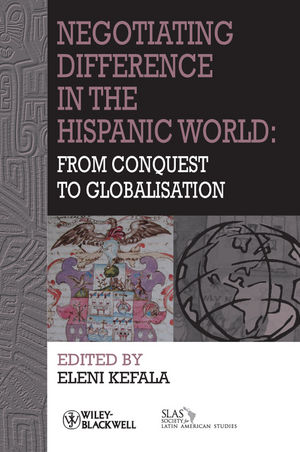 Negotiating Difference in the Hispanic World: From Conquest to Globalisation
ISBN: 978-1-444-33907-9
Jul 2011, Wiley-Blackwell
212 pages
Description
Negotiating Difference in the Hispanic World invites us to rethink the complex dialogical process of identity formation and self-definition in Latin America from the Conquest to the present day. Essays from an international scholarship provide an important theoretical contribution to debates on identity.
Explores the various instances of cultural encounters in Latin America from the Conquest to the present day

This volume is singularly wide in its breadth, covering sixteenth-century Aztec heraldry and Sahagún's Universal History of the Things of New Spain, to eighteenth-century notions of culture, nineteenth-century theatre, turn-of-the-century degeneration theory, and contemporary literature and culture.

The book's interdisciplinary approach combines literary and cultural studies, cultural history, art history, translation studies and cultural anthropology

A broad geographical scope covers Mexico, Colombia, Chile, Argentina, Spain, Cuba and the United States.

The book makes an important theoretical contribution to the debates on identity through its innovative approaches, maintaining a fine balance between theoretical argument and empirical study

The essays are written by specialists of different nationalities based in the United Kingdom, the United States, Norway and Argentina, providing an international cutting-edge scholarship
Notes on Contributors.

Introduction (Eleni Kefala).

Part I: Found in Translation

1. Translating the Nahuas: Fray Bernardino de Sahagún's Parallel Texts in the Construction of Universal History of the Things of New Spain (Victoria Ríos Castaño).

2. Genealogies and Analogies of 'Culture' in the History of Cultural Translation - on Boturini's Translation of Tlaloc and Vico in Idea of a New General History of Northern America (John Ødemark).

3. The 'Acculturation' of the Translating Language: Gregory Rabassa and Gabriel García Márquez's Chronicle of a Death Foretold (Anna Fochi).

Part II: Appropriations and the Rhetoric of Self-Definition

4. Claiming Ancestry and Lordship: Heraldic Language and Indigenous Identity in Post-Conquest Mexico (Mónica Domínguez Torres).

5. The Role of Degeneration Theory in Spanish American Public Discourse at the Fin de Siècle: Raza Latina and Immigration in Chile and Argentina (Michela Coletta).

6. (Mis)appropriating Europe: the Argentine Gaze in Ricardo Piglia's Artificial Respiration (Emilse Hidalgo).

Part III: Liminality and the Politics of Identity

7. Transatlantic Crossings: Don Álvaro as a Threshold (Christina Karageorgou-Bastea).

8. Transatlantic Deficits; or, Alberto Vilar at the Royal Opera House (Roberto Ignacio Díaz).

9. A European Enclave in an Alien Continent? Enduring Fictions of European Civilisation and Indigenous Barbarism in Argentina Today (Leslie Ray).

10. McOndo, Magical Neoliberalism and Latin American Identity (Rory O'Bryen).

Index.