Neighbourhood Renewal and Housing Markets: Community Engagement in the US and the UK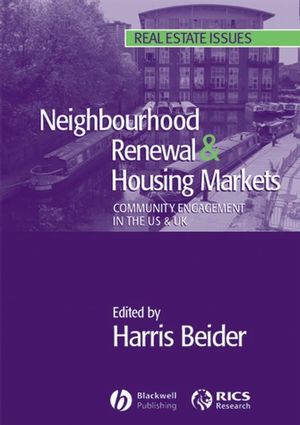 Neighbourhood Renewal and Housing Markets: Community Engagement in the US and the UK
ISBN: 978-0-470-75785-7 April 2008 Wiley-Blackwell 368 Pages
Description
The academic and policy interest in the development of cities, the renewal of residential and older industrial neighbourhoods in cities, and issues to do with race, polarisation and inequality in cities has remained at the forefront of policy and academic debate across Europe and North America. This book provides an important new contribution to these debates and highlights specific issues and developments which are crucial to an understanding of debates about residence, renewal and community empowerment.


engages with the urban regeneration, development and housing aspects of real estate

places debates on polarisation, inequality and race in a city-based structure

provides up-to-date account of policy developments
Table of contents
1. Introduction.
POLICY AND DEMOGRAPHIC CHANGE.
2. A United Kingdom? Changing Spatial, Ethnic and Tenure Patterns in England.
3. More Pluribus, Less Unum? The Changing Geography of Race and Opportunity.
CHANGING CITIES AND NEIGHBOURHOODS.
4. Reflecting on New York City's Housing Policy: 1987-2004.
5. Changing Housing Markets, Race and Community: Policy and Practice in Birmingham.
6. Race and Public Housing transformation in the United States.
7. Living Parallel Lives? Housing, Residential Segregation and Community Cohesion in England.
INSTITUTIONS AND CHANGE AGENTS.
8. Resistance and Change: Political and Community Mobilisation in Harlem.
9. The Transformation of English Housing Associations: Responding to Change.
10. The Fall (and Rise) of Community Development Corporations and Black and Minority Ethnic Housing Associations.
CONFLICT, PARTICIPATION AND POWER.
11. Housing, Regeneration and Change in the UK: Estate Regeneration in Tower Hamlets, East London.
12. Erasing the Community in Order to Save it? Reconstruction Community and Property in Community Development.
13. Communities, Networks and Power: Is there a Localisation of Decision-Making.
CONCLUSION.
14. Towards a New Policy Agenda
Reviews
"A thorough, practical and thoughtful overview of the complexities that characterise housing and residence patterns."
Planning in London<!--end-->
"Drawing on a rich array of experiences and scholarship, the writers offer numerous useful insights into policy topics, trends and implications." Housing Studies

"The book is a useful document for academics and practitioners who are involved in urban regeneration, segretation, and community development." European Journal of Housing Policy

"The conclusions are well written by the editor. They accurately describe and compare the value of the different contributions in the book. This edited volume contributes enormously to our understanding of the policy responses and the involvement of various parties in this process. For urban scholars and students the book provides a wealth of good empirical material to think about and discuss with each other. Hopefully the key issues for research that conclude the book will lead to more and much-needed research in this field." Journal of Housing and the Built Environment

'This is an exciting and important book. It contains a wealth of material on topics that include community renewal, ethnic relations, participation, conflict, and urban change. It successfully bridges the transatlantic divide, offering a wide array of valuable insights for researchers, policy-makers and students. The collection is particularly successful in combining broader conceptual and analytical work with detailed material on policy issues and experiences.'Malcolm Harrison, Professor of Housing and Social Policy, University of Leeds
Features


engages with the urnban regeneration, development and housing aspects of real estate

placs debates on polarisation, inequality and race in a city-based structure

provides up-to-date account of policy developments