Neofunctionalism and After: Collected Readings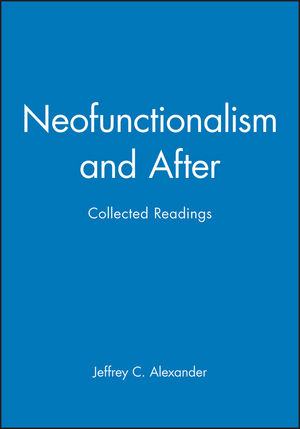 Neofunctionalism and After: Collected Readings
ISBN: 978-1-557-86630-1
Feb 1998, Wiley-Blackwell
256 pages
Description
One of America's leading sociological theorists, Alexander coined the term "neofunctionalism" a decade ago.
Series Editor's Preface.
Preface.
Acknowledgments.
Part I: Origins of a Theoretical Project:.
1. From Functionalism to Neofunctionalism: Creating a Position in the Field of Social Theory.
2. Traditions and Competition: Preface to a Postpositivist Approach to Knowledge Cumulation.
Part II: Reinventing Parsons/Reconstructing His Tradition:.
3. Neofunctionalism Today: Reconstructing a Theoretical Tradition.
4. Parsons's Structure in American Sociology.
5. Formal Sociology Is not Multidimensional: Breaking the Code in Parsons's Fragment on Simmel.
6. On Choosing Ones Intellectual Predecessors: Why Charles Camic is Wrong About Parsons's Early Work.
7. Structure, Value, Action: What Did the Early Parsons Mean and What Should He Have Said, Instead?.
Part III: After Neofunctionalism: Its Contribution to Theory Creation Today: .
8. The New Theoretical Movement.
9. Action, Culture and Civil Society.
Name Index.
Subject Index.
"The unique contribution of Jeffrey Alexander has been to develop a creative bridge between the significant components of the classical legacy and innovative advances in modern theory. In his new collection on neofunctionalism he advances the debate about Parsons and functionalism beyond the conventional platitudes about functionalist conservatism into contemporary debates about civil society, theory construction and cultural analysis.
Neofunctionalism and After
is a suble, thoughtful introduction to modern sociology, and in a period of nationalist rivalry, provides a global bridge between the European and North American traditions."
Bryan S. Turner, Deakin University, Australia
* Brings together all of Alexander's writing on neofuntionalism in one volume for the first time.
* Includes two new articles.
* Explains the significance of neofunctionalism in reshaping the theoretical map of sociological theory over the last decade.