Neoliberalization: States, Networks, Peoples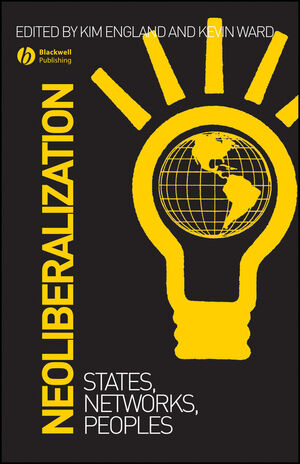 Neoliberalization: States, Networks, Peoples
ISBN: 978-1-405-13431-6 June 2007 Wiley-Blackwell 348 Pages
Description
The book is an analysis of cultural, social as well as political economic expressions of neoliberalization and argues for an appreciation of the relational geographies of neoliberalization.
In-depth empirical research spanning a variety of world regions
A range of topics including homelessness, comparative politics, economic development and social policy
Reviews how neoliberalism is enacted as a way to highlight the complexity and contingency of this economic model
Engages in debates within anthropology, gender studies, geography, health studies, international studies, planning, political science and sociology
Table of contents
List of Figures.
List of Plates.
List of Tables.
List of Contributors.
Preface.
1. Introduction: Reading Neoliberalizations (Kevin Ward and Kim England).
Part I: "Mainstream" Economic Development and its Alternatives.
Introduction to Part I.
2. Competing Capitalisms and Neoliberalism: the Dynamics of, and Limits to, Economic Reform in the Asia-Pacific (Mark Beeson).
3. Neoliberalizing the Grassroots? Microfinance and the Politics of Development in Nepal (Katherine N. Rankin and Yogendra B. Shakya).
Part II: Within and between State and Markets: the Role of Intermediaries.
Introduction to Part II.
4. Learning to Compete: Communities of Investment Promotion Practice in the Spread of Global Neoliberalism (Nicholas A. Phelps, Marcus Power, and Roseline Wanjiru).
5. Temporary Staffing, "Geographies of Circulation," and the Business of Delivering Neoliberalization (Kevin Ward).
6. Neoliberalizing Argentina? (Pete North).
Part III: States and Subjectivities.
Introduction to Part III.
7. Neoliberalizing Home Care: Managed Competition and Restructuring Home Care in Ontario (Kim England, Joan Eakin, Denise Gastaldo, and Patricia McKeever).
8. Spatializing Neoliberalism: Articulations, Recapitulations, and (a Very Few) Alternatives (Catherine Kingfisher).
9. Co-constituting "After Neo-liberalism": Political Projects and Globalizing Governmentalities in Aotearoa, New Zealand (Wendy Larner, Richard Le Heron, and Nicholas Lewis).
10. Conclusion: Reflections on Neoliberalizations (Kim England and Kevin Ward).
Bibliography.
Index.
Reviews
"Empirically, the book appropriately moves away from the 'first generation' centers of neoliberalism, focusing on peripheries within the global north as well as 'second generation' adopters of neoliberalism in the global south and specifically how neoliberalism has been variously implemented as contingent, mutable and contextually specific neoliberalizations." "England and Ward should take great pride in knowing that they have produced an indispensable volume of essential consideration to future studies of neoliberalism/neoliberalization." (Journal of Economic Geography)
Features


A full analysis of cultural, social and political economic expressions of
neoliberalization

In-depth empirical research spanning a variety of world regions

A range of topics including homelessness, comparative politics, economic development and social policy

Reviews how neoliberalism is enacted as a way to highlight the complexity and contingency of this economic model

Engages in debates within anthropology, gender studies, geography, health studies, international studies, planning, political science and sociology