Nerds on Wall Street: Math, Machines and Wired Markets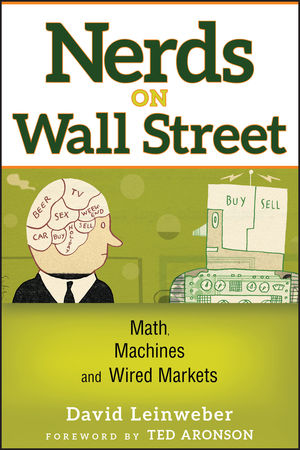 Nerds on Wall Street: Math, Machines and Wired Markets
ISBN: 978-0-470-50056-9 May 2009 400 Pages
Description
An intriguing look at how technology is changing financial markets, from an innovator on the frontlines of this revolution

Nerds on Wall Street tells the tale of the ongoing technological transformation of the world's financial markets. The impact of technology on investing is profound, and author David Leinweber provides readers with an overview of where we were just a few short years ago, and where we are going. Being a successful investor today and tomorrow--individual or institutional--involves more than stock picking, asset allocation, or market timing: it involves technology. And Leinweber helps readers go beyond the numbers to see exactly how this technology has become more responsible for managing modern markets. In essence, the financial game has changed and will continue to change due entirely to technology. The new "players," human or otherwise, offer investors opportunities and dangers. With this intriguing and entertaining book, Leinweber shows where technology on Wall Street has been, what it has meant, and how it will impact the markets of tomorrow.
Foreword by Ted Aronson xi
Acknowledgments xiii
Introduction xv
Part One 1 Wired Markets
Chapter 1: An Illustrated History of Wired Markets 5
Chapter 2: Greatest Hits of Computation in Finance 31
Financial Technology Stars; Hits and Misses; The Crackpot as Billionaire; Future Technological Stars; Mining the Deep Web; Language Technology; EDGAR; Greatest Hits, and the Mother of All Greatest Misses
Chapter 3: Algorithm Wars 65
Early Algos; Algos for Alpha; Algos for the Buy Side; From Order Pad to Algos; A Scientifi c Approach; Job Insecurity for Traders; So Many Markets, So Little Time; Known Unknowns and Unknown Unknowns; Models Aren't Markets; Robots, RoboTraders, and Traders; Markets in 2015, Focus on Risk; Playing Well with Robots and Algorithms; Seeing the Big Picture in Markets; Agents for News and Pre-News; Algorithms at the Edge
Part Two 89 Alpha as Life
Chapter 4: Where Does Alpha Come From? 95
Alpha from Innovation; Alpha, the ARPANET, and the Internet; Summary
Chapter 5: A Gentle Introduction to Computerized Investing 109
Indexing 101; Active Management; What Do Quantitative Managers Do?; Active Management on Steroids; Finding Information and Inefficiencies to Produce Alpha; All the Stocks, All the Time; Jumping the Trading Cost Hurdle; Putting the Pieces Together; Does This Really Work?
Chapter 6: Stupid Data Miner Tricks 135
"Your Mama Is a Data Miner"; Strip Mining the S&P 500; Enough Regression Tricks; Is There Any Hope for Data Miners?; Summary (and Sermonette); Counting the Kiddies
Part Three 149 Artificial Intelligence and Intelligence Amplification
Chapter 7: A Little AI Goes a Long Way on Wall Street 159
Prehistory of Artificial Intelligence on Wall Street; AI People Can Use; Where's the AI?; Real Charting; Virtual Charting; Descriptive Programming; Information Flows and Displays in MarketMind and QuantEx; Integration with Real-Time Feeds and Historical Databases; Composing Syntactically Bulletproof Programs; From Indications to Orders to Executions; Vapor No More; Future Plans for AI in Finance (in 1995)
Chapter 8: Perils and Promise of Evolutionary Computation on Wall Street 181
The AI Spring?; Genetic Algorithms; Evolving Financial Models; An Early Lesson; Arbitrage and Predictive Strategies; Maximizing Predictability; Chromosomes for Forecasting Models; FitnessFunctions for Forecasting Models; Use of the GA for Coping with a Combinatoric Explosion of Models; Genetically Optimized Forecasting Models in Hindsight; Genetic Algorithm Warning Label
Chapter 9: The Text Frontier: AI, IA, and the New Research 203
Ten Pounds of News in a Five-Pound Bag; Pre-News and Disintermediation; More Pre-News on the Internet
Chapter 10: Collective Intelligence, Social Media, and Web Market Monitors 227
Investing with Crowds; Never Met a Data Vendor I Didn't Like; Santa Claus Is Coming to Town; Counting Messages; Whisper Numbers—Ruined by Success; Monitoring Web Activity; More Web, More Warnings
Chapter 11: Three Hundred Years of Stock Market Manipulations:
From the Coffeehouse to the World Wide Web 253 The Power of Manipulation; A Classic Market Manipulation; The Very Model of a Modern Market Manipulator; Bluffing; How Communication Changes Market Manipulation; Anatomy of a Successful Manipulation; The Internet Era; Cyber-Manipulations; It's Not Just Micro-Caps; Where Are We Headed?
Part Four 273 Nerds Gone Wild: Wired Markets in Distress
Chapter 12: Shooting the Moon: Stupid Financial Technology Tricks 279
To Protect and to Serve; Stupid Engineering Tricks; Stupid Financial Engineering Tricks; Take Them Out and Shoot Them; Tech Hall of Shame; Quants Who Saw It Coming
Chapter 13: Structural Ideas for the Economic Rescue: Fractional Homes and New Banks 305
Chapter 14: Nerds Gone Green: Nerds on Wall Street, off Wall Street 327
Accelerating Innovation; From the Vault; Billions of Dollars and Millions of Tons of Carbon; Epilogue; Web Site
Index 343
About the Web Site 353
NerdsonWallStreet.com
Praise for Nerds On Wall Street
"Leinweber leads his readers through a largely unexplored forest, turning over ordinary-looking rocks to reveal hidden colonies of peculiar creatures that feed on moldering mounds of numbers teeming with trailing zeroes. His book is absorbing, instructive, and very, very funny."
–David Shaw, Founder, D. E. Shaw & Co.
"David Leinweber has been a pioneer in developing and applying advanced technologies in the capital markets. This book is a virtual tour de force survey of many of the key innovations over the past two decades, with key insights for the future. It is a highly engaging, insightful, and entertaining book for all investors who want to understand the increasingly important role of technology in the financial markets."
–Blake Grossman, CEO, Barclays Global Investors
"Leinweber isn't half as crazy as people said! He foresaw the profound change that wired technology would bring to markets (robots trading millions of shares in six milliseconds). Now he nails the Stupid Financial Engineering Tricks that dumped the markets, and offers his patented, sound insights on how the nerds will help bring us back."
–Jane Bryant Quinn, Financial columnist, Bloomberg.com and Newsweek
"Through the lenses of finance 'nerds,' Dave Leinweber recounts the quantitative and technological revolution in equity trading. The book is humorously written but it is serious and insightful. It makes an important contribution to our understanding of financial innovation and the evolution of the capital markets."
–Andre F. Perold, George Gund Professor of Finance and Banking, Harvard Business School
"Finally, a book that rightly honors the pocket-protected, RPN-loving, object-oriented, C-compatible, self-similar Wall Street quant! This is a delightfully entertaining romp across the trading floors and through the research departments of major financial institutions, told by one of the early architects of automated trading and a self-made nerd."
–Andrew W. Lo, Professor of Finance, MIT Sloan School of Management
"David Leinweber is one of the great financial innovators of our time. David possesses a unique combination of expertise in the fields of money management, artificial intelligence, and computer science."
–Blair Hull, Founder, Hull Trading & Matlock Trading
"An important, accessible, and humorous guide to today's electronic markets. Like Capital Ideas mixed with Being Digital, as told by Steve Martin."
–Frank Fabozzi, Yale School of Management, Editor, Journal of Portfolio Management
"Slicing and dicing data to predict the future can get dicey. The Super Bowl market indicator holds that stocks will do well after a team from the old National Football League wins the Super Bowl. . . The "Sell in May and go away" rule advises investors to get out of the market after April and get back in after October. . . hundreds -- of Web sites hawk "proprietary trading tools" and analytical "models" . . . There is no end to such rules. But there isn't much sense to most of them either. An entertaining new book, "Nerds on Wall Street," by the veteran quantitative money manager David Leinweber, dissects the shoddy thinking that underlies most of these techniques."
— Jason Zweig, The Wall Street Journal
"One of the best reads that I have picked up in some time. It stimulated me about things in the market that I didn't know.... A wonderful book"
—Vince Rowe Radium, Biz Radio
"Where technology will take investing and trading in the future is anyone's guess. Yet, David J. Leinweber in his newly published book, "Nerds on Wall Street: Math, Machines and Wired Markets," provides a glimpse of the direction. In his lively — alternately raucous and reverent, deriding and respectful — Mr. Leinweber recounts the history of how technology has transformed investing and trading through the people that developed ideas and pioneered applications, most famously in indexing, optimization and quantitative investing. . . The book makes one of the best reads of the summer — suitable for the beach as well as for a serious reader in suit and tie at the office."
—Pensions & Investments
"Explains complex financial instruments in relatively simple terms, and the same goes for complex trading techniques. . . The average reader will learn a lot here. I recommend the book to those that want to dig into how the equity markets became more computerized.
— Seeking Alpha