Network+ Study Guide: Exam N10-002, Deluxe Edition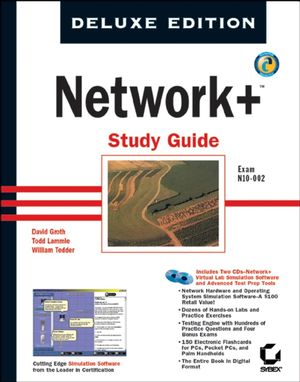 Network+ Study Guide: Exam N10-002, Deluxe Edition
ISBN: 978-0-782-14275-4
Jul 2003
578 pages
Product not available for purchase
Description
If you're serious about getting your Network+ certification and advancing your career in the field of networking , then here's the book you need. This Deluxe Edition of the best-selling Network+ Study Guide provides:
* In-depth coverage of every exam objective
* Practical information on essential hardware- and OS-related tasks
* Expert insight into real-world implementation of networking technologies
* Leading-edge exam preparation software, including the Network+ Virtual Lab, as well as Sybex's custom testing engine, electronic flashcards, and the entire book in PDF
Authoritative coverage of all domains for the Network+ exam
* Media and topologies
* Network implementation
* Protocols and standards
* Network Support
This book has been reviewed and approved as CompTIA Authorized Quality Curriculum (CAQC). Students have a number of important study advantages with CAQC materials, including coverage of all exam objectives, implementation of important instructional design principles, and instructional reviews that help students judge their learning comprehension and readiness for the certification exam.
Introduction.
Assessment Test.
Chapter 1: Network Fundamentals.
Chapter 2: The OSI Model.
Chapter 3: TCP/IP Fundamentals.
Chapter 4: TCP/IP Utilities.
Chapter 5: Major Network Operating Systems.
Chapter 6: Network Installation and Upgrades.
Chapter 7: WAN and Remote Access Technologies.
Chapter 8: Network Access and Security.
Chapter 9: Fault Tolerance and Disaster Recovery.
Chapter 10: Network Troubleshooting.
Glossary.
Index.
Chapter
Page
Details
Date
Print Run
Combined Errata


Page 466

The image on page 466 is incorrect.

Corrected image is below.

---
In-depth coverage of every exam objective
Practical information on essential hardware- and OS-related tasks
Expert insight into real-world implementation of networking technologies
Leading-edge exam preparation software, including the Network+ Virtual Lab, as well as Sybex's custom testing engine, electronic flashcards, and the entire book in PDF
Authoritative coverage of all domains for the Network+ exam

Media and topologies
Network implementation
Protocols and standards
Network Support