Network+ Study Guide: Exam N10-002, 3rd Edition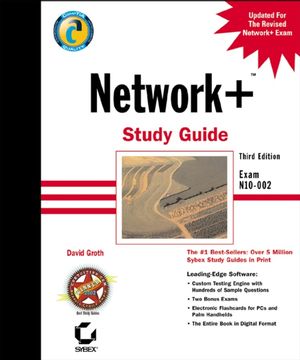 Network+ Study Guide: Exam N10-002, 3rd Edition
ISBN: 978-0-782-15252-4
Feb 2006
578 pages
Product not available for purchase
Description
Here's the book you need to prepare for the Network+ exam.

This proven Sybex Study Guide provides:
In-depth coverage of every exam domain--all the information you need
Practical information on essential networking tasks
Hundreds of challenging review questions, in the book and on the CD
Leading-edge exam preparation software, including a custom testing engine and electronic flashcards
Authoritative coverage of all Network+ exam domains:
Media and topologies
Protocols and standards
Network implementation
Network support
Note: CD-ROM/DVD and other supplementary materials are not included as part of eBook file.
Introduction.
Assessment Test.
Chapter 1: Network Fundamentals.
Chapter 2: The OSI Model.
Chapter 3: TCP/IP Fundamentals.
Chapter 4: TCP/IP Utilities.
Chapter 5: Major Network Operating Systems.
Chapter 6: Network Installation and Upgrades.
Chapter 7: WAN and Remote Access Technologies.
Chapter 8: Network Access and Security.
Chapter 9: Fault Tolerance and Disaster Recovery.
Chapter 10: Network Troubleshooting.
Glossary.
Index.
Chapter
Page
Details
Date
Print Run
Combined Errata


Page 0CD

Flash card error "Simple Network Management Protocol (SMTP)" should read Simple Network Management Protocol (SNMP)
Qu. Which protocol is the one within TCP/IP that allows network hosts
> to be remotely managed?
>
> Ans. Simple Network Management Protocol (SMTP)
>
> Could you please correct this as it is misleading.
>

Page 33?

Table 1.3 should be Cat 5=100Mbps, Cat 5e = 1000Mbps.

Page 53

2nd line, "NetBIOS" should read "NetBIOS/NetBEUI"

Page 64

Under Data Layer Concepts, 2nd sentence, replace the word 'packets' with "frames"

Page 66

The last sentence of the first paragraph of the page states that "CSMA/CD is the access method used in Ethernet and wireless Ethernet networks." Wireless Ethernet, 802.11, uses CSMA/CA, not CSMA/CD.

Page 73

TABLE 2.2, Under FDDI,Speed(s), 200Mbps should be 100Mbps

Under Data Link Layer Devices 'Three' should be "Two", delete the 3rd bulleted item, NIC

Page 76

Chapter 2 page 76 Under Heading Logical Network Addressing. "every network device has a address ( the MAC address )" should be "every NIC has a address IE the MAC address...."

Page 91

Under NetBEUI, 6th line, 1st "it", replace with "NetBIOS"

Page 133

TABLE 3.5, slash 28 should have a subnet mask of 255.255.255.240, and slash 30 should have a subnet mask of 255.255.255.252

Page 159

Explanation for Ques. # 5, beginning of 2nd sentence, Port 21 should be Port 23. Port 21 is for FTP.

Page 184

Last para. above the TIP, 2nd sentence should be "Unfortunately, with its default settings, the FTP utility doesn't give you any indication of the progress of the transfer."

Page 199

#7 -Should read "Which switch for the Windows 95/98 nbtstat utility will display all NetBIOS name resolution statistics?" Remove "and each name's associated IP address"

Page 217

Under NetWare 4.x, 4th line, replace "server" with "user"

Page 256

Under Naming Test and Service Accounts, 6th line, replace "less" with "more"

Page 315

Objective 2.13. These topics are covered in Chapter 8, page 372.

Page 347

Chapter 8 Network Access and Security. .
Add the following objective:

2.13 Identify the following security protocols and describe their purpose and function:

IPSec

L2TP

SSL

Kerberos

Page 379

Under Active Detection, last line, replace SATAN with "Snort"

Page 381

In the 1st NOTE,change "Windows NT Server is C2-level..." to "both Windows NT Server and Workstation are C2-level"

In the NOTE at the bottom of the page, NetWare 4.1 should be "NetWare 4"

Page 387

Top para., delete entire 2nd sentence, "Classified as secret ..........".

Page 397

Question #2, the correct answer is D.
Answer D describes packet filtering. D "Dynamic Packet Filtering." Quoting page 368 "...only
packets for current (and valid) communications are allowed to pass" and reviewing figure 8.4 on page 369, the diagram shows the state
list with "next packet #1239." Nothing about this question has to do with Proxy Servers.

Page 428

Under Real World Scenario, 4th line, "properly" should be "improperly" and "store" should be "don't store"

Page 439

Under Updating Definition Files, 1st sentence, "month" should be "week"

Page 454

Answer to Question # 19 should be "B". In last line of answer explanation, "month" should be "week"

Page xxii

Exam consits of 72 not 65 , for 90 minutes not 2 and a half hours.
Page xxii says exam consists of 65 questions
2 and half hour for test. I thnk it is
90 minutes isn't it?

---