Network Security For Dummies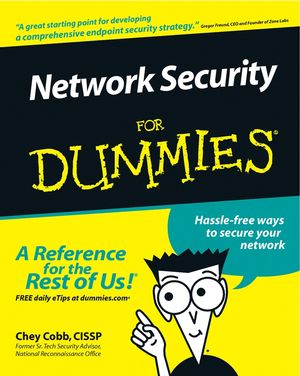 Network Security For Dummies
ISBN: 978-1-118-08533-2
May 2011
408 pages
Description
CNN is reporting that a vicious new virus is wreaking havoc on the world's computer networks. Somebody's hacked one of your favorite Web sites and stolen thousands of credit card numbers. The FBI just released a new report on computer crime that's got you shaking in your boots. The experts will tell you that keeping your network safe from the cyber-wolves howling after your assets is complicated, expensive, and best left to them. But the truth is, anybody with a working knowledge of networks and computers can do just about everything necessary to defend their network against most security threats.

Network Security For Dummies arms you with quick, easy, low-cost solutions to all your network security concerns. Whether your network consists of one computer with a high-speed Internet connection or hundreds of workstations distributed across dozens of locations, you'll find what you need to confidently:
Identify your network's security weaknesses
Install an intrusion detection system
Use simple, economical techniques to secure your data
Defend against viruses
Keep hackers at bay
Plug security holes in individual applications
Build a secure network from scratch
Leading national expert Chey Cobb fills you in on the basics of data security, and he explains more complex options you can use to keep your network safe as your grow your business. Among other things, you'll explore:
Developing risk assessments and security plans
Choosing controls without breaking the bank
Anti-virus software, firewalls, intrusion detection systems and access controls
Addressing Unix, Windows and Mac security issues
Patching holes in email, databases, Windows Media Player, NetMeeting, AOL Instant Messenger, and other individual applications
Securing a wireless network
E-Commerce security
Incident response and disaster recovery
Whether you run a storefront tax preparing business or you're the network administrator at a multinational accounting giant, your computer assets are your business.  Let Network Security For Dummies provide you with proven strategies and techniques for keeping your precious assets safe.
Introduction.

Part I: The Path to Network Security.

Chapter 1: Starting Down the Road to Network Security.

Chapter 2: Evaluating and Documenting Your Network Situation.

Chapter 3: Assessing the Risks.

Chapter 4: Planning and Implementing Security Policies and Procedures.

Part II: Your Network Is Your Business.

Chapter 5: Choosing Controls without Breaking the Bank.

Chapter 6: You Could Be Liable If.

Chapter 7: Building a Secure Network from Scratch.

Part III: The All-Important Security Mechanisms.

Chapter 8: Anti-Virus Software.

Chapter 9: Firewalls and Brimstone.

Chapter 10: Intrusion Detection Systems.

Chapter 11: Access Controls/Privileges.

Part IV: Special Needs Networking.

Chapter 12: When Patchwork Doesn't Mean Quilting: Unix Systems.

Chapter 13: Boarding Up Your MS Windows.

Chapter 14: Is Anything Eating Your Mac?

Chapter 15: Application Software Patching.

Chapter 16: Very Precious Network Security.

Chapter 17: Securing Your Wireless Network.

Chapter 18: E-Commerce Special Needs.

Part V: Dealing with the Unthinkable.

Chapter 19: Emergency! Incident Response.

Chapter 20: Disaster Recovery.

Chapter 21: Who Did the Dirty: Computer Forensics.

Part VI: The Part of Tens.

Chapter 22: Ten Best Security Practices.

Chapter 23: Ten Best Security Web Sites.

Chapter 24: Ten Security Tools Every Network Security Geek Should Have.

Chapter 25: Ten Questions to Ask a Security Consultant.

Index.
Bonus Material
The author has prepared several documents in Microsoft Word format to help you out.

If you have trouble opening ZIP formatted files, visit http://www.Winzip.com to download a trial version of Winzip.

Download