Networked: A Contemporary History of News in Transition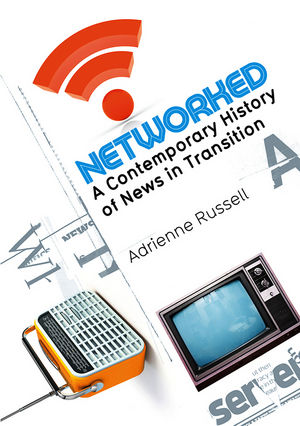 Networked: A Contemporary History of News in Transition
ISBN: 978-0-745-64952-8 July 2011 Polity 216 Pages
Description
Journalism, what happened? In the last decade, the industry and the profession have been rocked to the core. Newspapers as consumer product are as ripe for comic mocking and satire as are the techniques of the journalism profession. The contemporary death and life of journalism is the story of an historic cultural transition. We have lived through the end of the mass-media era and the beginning of the networked-media era. We took in news one way for a century and we simply don't do it like that anymore. Networked: A Contemporary History of News in Transition examines this moment in journalism, the conditions that brought it about and the characteristics that have shaped it and will shape its future. In crafting this sophisticated yet accessible study, new-media scholar Adrienne Russell draws on personal interviews with journalists and analysts at the center of the shift, examines innovative and revealing digital news projects, and underlines larger cultural changes that reflect the new news reality. Networked also examines emergent journalism practices that suggest the forces at work and the stakes involved in developments we have all experienced but, caught up in the rush of change, have had limited perspective to interpret.
Table of contents
Acknowledgements vi
1 Introduction: The Rise of Networked Journalism 1
2 Participatory Journalism: The Wealth of Networks 33
3 From Personalization to Socialization71
4 News Parody, Satire, Remix: When There's Nothing to Do But Laugh 101
5 Public Life and the Future of News 131
Index 159
Reviews
"In this concise overview, Russell complicates the 'narrative of decline' of traditional news journalism, and celebrates the neo-situationist 'détournements' of what she terms 'fake news' producers such as the Daily Show and the Yes Men."
Steven Poole, The Guardian
"Networked hits the mark...Russell has spoken to and learned from those who are pioneering new journalism practices. She seeks to understand, not to damn. Networked is a great piece of modern scholarship. It reveals much about new types of news and new pathways to democratic engagement. It is an enriching and eloquent book by a writer with a sparkling style and an equally effervescent intellect, and I shall recommend it highly to my students and colleagues."
Times Higher Education
"This short book will be an interesting read for journalists and non-journalists alike, though possibly for different reasons. Most journalists will already have an opinion on the matter, so to them the book will be useful to confirm opinion or sharpen arguments. For the rest, it is a good starting point for forming an opinion on the future of journalism and the news."
LSE Blog
"This timely and thought-provoking book hands us the tools for understanding the key ways in which journalism is changing in today's new media landscape. Combining careful theoretical and historical analysis with discussion of contemporary examples of innovative newsmaking, Russell presents a vision for how journalism can not only survive but thrive in the digital age."
Mizuko Ito, University of California

"In this broad and probing examination of journalism as it has changed in the last two decades, Adrienne Russell offers a genuinely original - and an intellectually enriching - account of new forms of news and new opportunities for democratic engagement. This book matters."
Theodore L. Glasser, Stanford University
Features
A compelling account of the death and life of contemporary journalism.
Examines the transition to a networked form of news by placing journalism today in historical perspective.
Written in a very readable and accessible style, while still presenting sophisticated scholarship.
Deals with a topic which is of great interest and concern at the present in an even-handed way.
Draws on first hand interviews with journalists key to the shift.